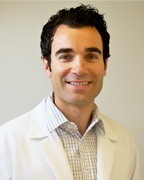 Biography
Luke Fuller is an osteopathic manual practitioner with Cleveland Clinic Canada's Sports Health team. Guided by the philosophy that the whole body must function together for optimal health, Mr. Fuller's osteopathic treatments use a combination of soft tissue and muscle energy techniques, mobilization and manipulation.
Born and raised in Maryborough, Victoria, Australia, Mr. Fuller earned two Bachelor and two Master degrees before moving to Canada. He has completed a Bachelor of Sciences degree in Human Anatomy and Physiology, and a Bachelor of Clinical Sciences in Osteopathy. Immediately following them, he earned his Master of Health Sciences in Osteopathy, and his Master of Physiotherapy.
Highly qualified as an osteopathic manual practitioner and physiotherapist, in addition to treating patients at our clinic, Luke also travels the world to treat elite athletes in golf and tennis. Over the last several years, Luke has worked with many of the top seeds (players) on the ATP (Association of Tennis Professionals) World Tour circuit. Recently, he was appointed the role of Lead Therapist, Tennis at the 2015 Pan Am Games in Toronto.
Mr. Fuller has extensive experience treating musculoskeletal and sport injuries, especially biomechanical issues from repetitive pounding, twisting and changing-direction movements, and holds a special interest and specialized skill when addressing issues of the foot, ankle, shoulder and knees.
In his spare time, Luke enjoys spending time with his family and maintaining good physical fitness and health with distance running, Australian-rules football and cricket.
Education/Training
Master of Physiotherapy

The University of Sydney
Sydney, Australia

Master of Clinical Sciences

Victoria University
Osteopathy
Melbourne, Victoria, Australia

Bachelor of Clinical Sciences

Victoria University
Osteopathy
Melbourne, Victoria, Australia

Bachelor of Sciences

The University of Melbourne
Human Anatomy and Physiology
Parkville, Victoria, Australia
Specialty Interests
Foot
Ankle
Shoulder
Knee
Exercise Prescription
Postural Assessment
Performance enhancement for athletes
Professional Memberships
The Ontario Association of Osteopathic Manual Practitioners (OAO)
Society of Tennis Medicine and Science
Sports Medicine Australia
Australian Physiotherapy Association
Sport Physiotherapy Australia
Musculoskeletal Physiotherapy Australia
Australian Osteopathic Association
National Strength & Conditioning Association (USA)