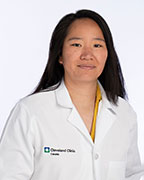 Biography
Stacey Huang is a physiotherapist with the Sports Health team at Cleveland Clinic Canada. She has extensive experience treating musculoskeletal and orthopaedic injuries and is a passionate advocate for sport and physical activity. In her practice, Ms. Huang most commonly treats conditions affecting the lower back, neck, shoulders, wrists and hands.
Born in Guangdong, China and raised in rural Newfoundland, Ms. Huang has always been fascinated by sport and the human body. She obtained both her Bachelor of Kinesiology and her Masters of Kinesiology in Neuromuscular Physiology from Memorial University in St. John's, Newfoundland. She went on to complete her Masters of Physiotherapy from McMaster University in Hamilton, Ontario. Ms. Huang's treatment style is largely exercise based and her background in kinesiology allows her to prescribe individualized exercises for the specific needs of her patients. She often uses taping, manual therapy, electroacupuncture, and Neurokinetic therapy to enhance the effectiveness of her treatments.
Ms. Huang believes in an evidence-based approach to treatment and has been published in several prominent journals, including the Journal of Strength and Conditioning Research.
When she is not treating patients, Ms. Huang stays active by playing volleyball and basketball, skiing and doing hot yoga. She also loves to cook, try new foods and travels as often as she can.
Education/Training
Masters of Physiotherapy

McMaster University
Hamilton, ON

Masters of Kinesiology

Memorial University
Neuromuscular Physiology
St. John's, NL

Bachelor of Kinesiology (Honours)

Memorial University
Minor in Psychology
St John's, NL
Certifications
Canadian Physiotherapy Competency Exam
APTEI Cervical Course
APTEI Shoulder Course
McMaster Medical Acupuncture Program: An Evidence-Based Approach to Traditional Chinese Medicine
GLA:D® education and exercise program for knee and hip OA
Specialty Interests
Neurological rehabilitation
MSK injury
Low back pain
Shoulder injuries
Wrist injuries
Hand injuries
Professional Memberships
Canadian Physical Therapy Association
College of Physical Therapists of BC