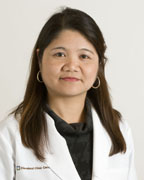 Biography
Judy Bonto is a Registered Practical Nurse at Cleveland Clinic Canada. Ms. Bonto has a special interest in geriatric medicine. She is skilled in recognizing special clinical issues that affect the elderly, including injury rehabilitation, managing continuing care, and the importance of effective communication between patients, their families and caregivers. Patients enjoy Ms. Bonto's easygoing manner, and appreciate her ability to explain procedures in a way that makes even the most challenging medical concepts simple to understand.
Born in the Philippines, Ms. Bonto graduated from Bicol University with a degree in Biology, then earned her Doctor of Medicine from Manila Central University. She performed her clinical training at Medical Center Muntinlupa, where she was Chief Resident in Internal Medicine, then served in the Geriatric Medicine Fellowship Program at St. Luke's Medical Center. The Philippine College of Physicians named her an Associate Fellow in Internal Medicine. Part of her training as a Geriatric Medicine Fellow, she served at the Baycrest Centre for Geriatric Care in Toronto. Since relocating to Toronto, Ms. Bonto completed her Diploma in Practical Nursing from Durham College in Oshawa.
When she's not working, Ms. Bonto enjoys cooking, reading and spending time with her husband and three lovely kids. She is fluent in both English and Filipino.
Education/Training
Diploma

Durham College
Practical Nursing
Oshawa, ON
Doctor of Medicine

Manila Central University
Manila, Philippines

Bachelor of Science

Bicol University
Biology
Legazpi City, Philippines

Certifications
CPR/AED-HCP
Public Health Ontario: Infection Prevention and Control Certificate in Intramuscular Injections - CJ College
Certificate in Phlebotomy - CJ College
Certificate in ACLS
Gentle Persuasive Approach
Specialty Interests
Geriatric medicine
Phlebotomy
Clinical, laboratory, and administrative procedures
Patient/community relations
Professional Memberships
Registered Practical Nurse
Philippine College of Physicians
Associate Fellow in Internal Medicine – Philippine College of Physicians (PCP)