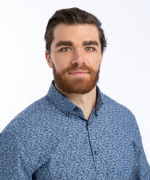 Biography
Mackenzie McLaughlin is an Exercise Physiologist and Research Associate at Cleveland Clinic Canada. Dr. McLaughlin comes from a high-performance background and is dedicated to helping patients of all fitness levels, from athletes looking to improve their sport performance, to patients looking to recover from an injury or start a new exercise routine. He takes an individualized approach to exercise to make it fun and enjoyable for his patients while increasing their endurance, muscular strength, and movement patterns.
Dr. McLaughlin first obtained his Bachelor of Science (Honours) in Bio-Medical Sciences from the University of Guelph where he was also a member of the Varsity Football team. He completed his PhD in Exercise Physiology with a focus on Pharmaceutical Sciences at the University of Toronto, during which time he was actively involved in the student community. He was a member of his graduate society, the President of Exercise is Medicine on Campus, and is the Founder and Executive Producer of the Medicine in Motion Podcast.
Dr. McLaughlin acted as both a Teaching Assistant and a Lab Coordinator at the University of Toronto, and has helped to teach courses in Advanced Cardiorespiratory Physiology; Anatomy and Development; Exercise, Health, and Nutrition; Strength and Conditioning for Sports Performance; and Human Environmental Exercise Physiology. His research has been published in the Exercise and Sport Sciences Reviews, the Kinesiology Review and The Journal of Physiology. He has presented his findings at conferences across Canada and the U.S. and was awarded Best Presentation for his work on aerobic exercise on acute and subacute drug metabolism.
Dr. McLaughlin has been a member of the Volunteer Ski Patrol at Mount Saint Louis Moon Stone resort for many years. Each season, he helps to perform advanced first aid on injured individuals visiting the resort to ski and snowboard, as well as participants of the Ride to Conquer Cancer cycling across Ontario.
When he's not seeing patients, Dr. McLaughlin loves to stay active and spend time outdoors as he engages in kitesurfing, skiing, snowboarding and road cycling.
Education/Training
PhD


University of Toronto
Toronto, ON
Bachelor of Science (Hons)

University of Guelph
Bio-Medical Sciences
Guelph, ON
Certifications
Clinical Exercise Physiologist (CSEP)
Certified Strength and Conditioning Specialist (NSCA)
Advanced First Aid / Emergency First Responder
Specialty Interests
High performance sports
Exercise education
Professional Memberships
Canadian Society for Exercise Physiology (CSEP)