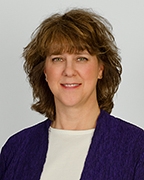 Biography
Jacqueline Brunshaw, PhD, C Psych, is the Director of the Psychology Department at Cleveland Clinic Canada. As a psychologist, Dr. Brunshaw is dedicated to empowering her clients with a sense of self-efficacy and self-mastery to enable them to reach their full potential. Dr. Brunshaw is committed to teaching her students and working with colleagues to deliver optimal psychological care.
Born in New Westminster, British Columbia and raised in Montreal, Quebec, Dr. Brunshaw moved to Ontario to pursue her education and build her career. Starting at McMaster University, Dr. Brunshaw completed two undergraduate degrees: Bachelor of Arts (Psychology) and Bachelor of Social Work. Dr. Brunshaw continued and earned a Master of Sciences in Epidemiology and Biostatistics, and a Master of Education (Psychology) from the University of Toronto. Dr. Brunshaw then completed a Doctorate of Philosophy degree in Clinical Psychology at York University. Dr. Brunshaw is a registered psychologist with the College of Psychologists of Ontario with areas of practice in Clinical, Counselling, and Rehabilitation psychology. Dr. Brunshaw is a valued member of the psychology community.
Over the years, Dr. Brunshaw has worked in numerous psychological and psychiatric departments in various hospitals in Ontario. Dr. Brunshaw has been involved in a multitude of academic and research committees and has presented both nationally and internationally in the areas of mental health and change processes in therapy. Dr. Brunshaw has published in both peer and non-peer reviewed journals and has taught in the area of abnormal psychology. Dr. Brunshaw has assessed and treated clients with a wide variety of mental health needs, including depression, anxiety, trauma, loss, bereavement, eating disorders, stress management, and addictions and has particular expertise in the assessment and treatment of individuals involved in motor vehicle and personal injury accidents.
When not at Cleveland Clinic Canada, Dr. Brunshaw supervises psychotherapists. Dr. Brunshaw also sees individuals and couples at her private practice.
In her free time, Dr. Brunshaw enjoys spending time with her family and friends, wilderness hiking and canoeing, foreign film, adventure travel, reading novels, listening to flamenco and new age music, and biking.
Education/Training
PhD

York University
Department of Psychology
Toronto, ON

Internship

The Centre for Addiction and Mental Health
Toronto, ON

Master of Sciences

University of Toronto
Epidemiology and Biostatistics
Toronto, ON

Master of Education

University of Toronto
Applied Psychology
Toronto, ON

Bachelor of Arts

McMaster University
Department of Psychology
Hamilton, ON

Bachelor of Social Work

McMaster University
Hamilton, ON
Certifications
Certificate in Interpersonal Therapy
Certificate in Cognitive-Behavioural Therapy
Specialty Interests
Chronic Pain
Eating Disorders
Addictions
Trauma and Loss
Preventive Health and Wellness
Awards & Honours
York Dissertation Award, York University
Professional Memberships
Ontario College of Psychologists
Canadian College of Psychologists