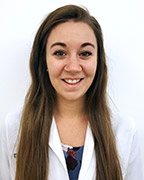 Biography
Taylor Dibbits is an X-Ray Technologist at Cleveland Clinic Canada.
Ms. Dibbits obtained certification in pre-health science as well as medical radiation technology from Cambrian College. She went on to complete her clinical placement in diagnostic imaging at Trenton Memorial Hospital. Since graduation, she has completed additional training in contrast and non-contrast CT and bone mineral density. She has a particular interest in trauma and oncology.
Ms. Dibbits is dedicated to patient care and prides herself on delivering a positive patient experience. She most commonly helps to diagnose fractures, respiratory problems and bone pathologies.
When she's not seeing patients, she enjoys hiking, exploring new towns and trying new restaurants.
Education/Training
Clinical Placement

Trenton Memorial Hospital
Diagnostic Imaging
Quinte West, ON
Certificate

Cambrian College
Medical Radiation Technology
Sudburu, ON
Certificate

Cambrian College
Pre-Health Science
Sudbury, ON
Certifications
Bone Mineral Density – ISCD Certified
Standard First Aid and CPR (level C) and AED – Certified
Contrast and Non-contrast CT
Specialty Interests
Professional Memberships
Canadian Association of medical radiology technologists (CAMRT)
Ontario Association of medical radiation Sciences (OAMRS)
College of Medical Radiation Technologists of Ontario (CMRTO)