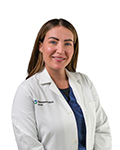 Biography
Candice Petrovic is a Registered Practical Nurse at Cleveland Clinic Canada.
Ms. Petrovic has always been drawn to the field of nursing. Her work as a clinical administrative assistant for the Chief of Surgery at McMaster Hospital inspired her to take the next step and pursue a career in nursing. She went on to obtain her diploma in practical nursing from Mohawk University in Hamilton.
Ms. Petrovic began her nursing career in long term care, working with patients in the Alzheimer's unit and caring primarily for patients with late stages of Alzheimer's. She then moved into the field of preventative medicine and specialized in health teaching and disease management. She believes that mental health and physical health are directly related and advocates for her patients to live a life that allows for both to be a priority. Particularly interested in gerontological nursing, Ms. Petrovic is dedicated to working with patients and their families to identify strategies for living a fulfilling life with the best quality of care. Her own experience with a family member in the medical system has given her a unique perspective when it comes to providing care to her patients and being their advocate to ensure they receive the best medical care.
When she is not seeing patients, Ms. Petrovic enjoys spending time with her family and going on adventure walks. She also practices yoga and enjoys running.
Education/Training
Diploma

Practical Nursing
Mohawk College of Applied Art and Technology
Hamilton, ON


Diploma

Medical Office Administration
Mohawk College of Applied Art and Technology
Hamilton, ON

Diploma

Emergency Services Communications Program
Mohawk College of Applied Art and Technology
Hamilton, ON
Specialty Interests
Preventive medicine
Gerontological nursing
Professional Memberships
College of Nurses of Ontario (CNO)
Registered Practical Nurses Association of Ontario (RPNAO)
Certifications
Basic Life Support (BLS) Provider - Heart & Stroke Foundation