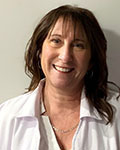 Biography
Rolande Landry is a Nurse Practitioner at Cleveland Clinic Canada. Ms. Landry has over thirty years of experience in the field of nursing and has a special interest in women's wellness, mental health, pediatric care, prenatal and postnatal care.
Born and raised in New Brunswick, Ms. Landry first obtained her Bachelor of Science in Nursing at the Université de Moncton before going on to complete her Masters in the Nurse Practitioner program at the Université de Moncton. Always eager to learn the latest in her field, Ms. Landry has obtained additional certification in basic critical care, the fundamentals of mental health care in primary care and the Train the Trainer Program for Hypertension through the Canadian Hypertension Education Program.
Ms. Landry is actively involved in her community and holds positions on numerous committees and organizations, including the New Brunswick Prenatal Committee and the SANE Program (Sexual Assault Nurse Examiner). She was involved in the development and delivery of the Motivation Program for obesity in children as well as a Pediatric Eating Disorder clinic and the sexual health program in the local school system. Currently, Ms. Landry is a zone 5 representative for her community's Nurse Practitioner working group.
When she's not treating patients, Ms. Landry enjoys spending time with her family, boating, camping and volunteering. She is fluent in both French and English.
Education/Training
Masters

Université de Moncton
Nurse Practitioner
Moncton, NB

Bachelor of Science


Université de Moncton
Nursing
Moncton, NB
Certifications
Basic critical care
Hypertension Canada Train the Trainer Program for CHEP
Fundamentals of Mental Health Care in Primary Care
Specialty Interests
Women's wellness
Mental health
Prenatal and postnatal care
Pediatrics
Professional Memberships
New Brunswick Nurses Association
Nurse Practitioner Association of Canada
Canadian Nurses Association
Nurse Practitioner Association of New Brunswick