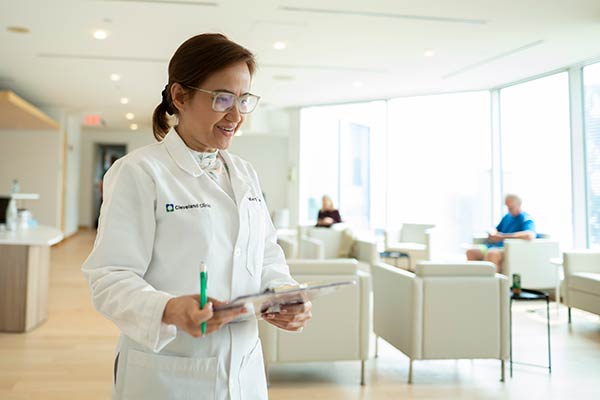 About Cleveland Clinic Canada
Cleveland Clinic Canada is the Canadian location of Cleveland Clinic, a global nonprofit academic medical centre that has provided world class patient care to people from around the world since 1921. Our multi-disciplinary team of physicians and wellness experts provide in-person care at our clinics in Toronto as well as virtual care across Canada. Our medical experts also work with companies to help them manage organizational risk and improve the health of their employees. Our patients benefit from the expertise of dozens of Canadian physicians, specialists and wellness experts, as well as over 5,000 physicians and specialists across the Cleveland Clinic network.
Located in the heart of the financial district, our downtown location offers services to help people age well, move better and know their healthcare options. Our midtown location, in the Yonge and Eglinton area, specializes in services that help our patients move better.
Patients are our top priority
"Patients First" is the guiding principle of Cleveland Clinic. We strive to provide outstanding and compassionate care and service, every step along the way.
Putting patients first requires more than world-class clinical care – it requires care that addresses every aspect of a patient's encounter with Cleveland Clinic, including the patient's physical comfort, as well as their educational, emotional, and spiritual needs.
Formalizing our commitment to this important work, Cleveland Clinic was the first major academic medical centre in North America to make patient experience a strategic goal, the first to appoint a Chief Experience Officer, and one of the first academic medical centers to establish an Office of Patient Experience. Led by Adrienne Boissy, MD, the Office of Patient Experience's mission is to ensure consistently patient-centered care by partnering with caregivers to exceed the expectations of patients and families.
Give to Friends of Cleveland Clinic Canada
Friends of Cleveland Clinic Canada is a community of donors who wish to invest in the future of health, medical education and research in Canada. Gifts to this charitable organization benefit the health of citizens throughout Canada.