Overview
Overview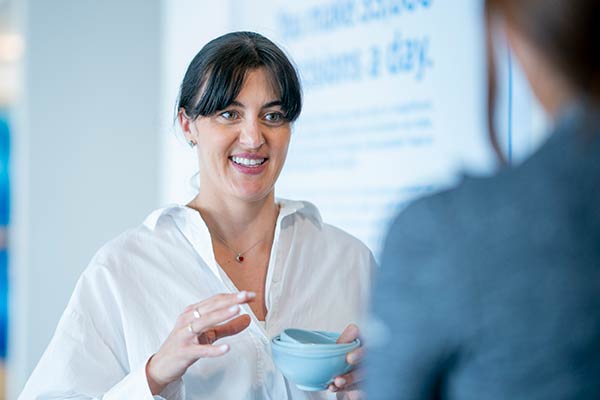 The registered dietitians at Cleveland Clinic Canada are committed to providing patients with high quality, evidence based nutrition advice. There are many different ways to eat well and feel your best. We will help you find the way that suits you.
We will help you explore and compare different eating patterns, habits and food choices that affect your health and wellness. Whether you want to lose weight, gain weight, try a new diet, participate in sports or reduce your risk of disease, our nutrition team translates the latest evidenced-based research into real life practices to help you establish healthy and satisfying eating habits that help you feel your best for the long term.
If you are interested in improving your diet, consider one of the following options:
Individual nutrition counselling
Resting (Basal) metabolic rate testing
Participants in the Executive Health Program will receive a nutrition consultation as part of their comprehensive evaluation. If you're interested in private nutrition counselling at Cleveland Clinic Canada, our team can assess your individual needs and provide one-on-one counselling for general nutrition or sports nutrition.
Who Will Benefit From This Service?
Individuals searching to improve their nutritional needs as it relates to:
Bone health
Bowel health
Cancer prevention
Cholesterol reduction
Eating disorders
General nutrition
Heart health
Sports performance
Weight gain
Weight management
Weight reduction
Nutrition Articles From Our Team
Are You Covered?
Nutrition services are not covered by OHIP though may be fully or partially covered by extended health insurance plans. The coverage for each carrier is different; please check your plan to see what coverage is available for this type of service.
Staff
Executive Health
Nutrition Counselling
Locations
Cleveland Clinic Canada Downtown
181 Bay Street
Brookfield Place: 30th Floor
Toronto, Ontario M5J 2T3
What to Expect From a Nutrition Consultation
What to Expect From a Nutrition Consultation
Individual Nutritional Counselling
Our comprehensive nutrition assessment provides a thorough analysis of your current dietary habits and recommendations for improvement. Our dietitians will identify whether your current habits increase your risk of disease or contribute to secondary conditions you may be experiencing.
The assessment includes the following services:
Food Analysis - A thorough analysis of your diet, including:

Types of food you eat
Timing of those foods
Weight issues as a result of your food choices
Issues such as energy, weight and body composition that may result from various food choices
Relation of diet and illness

Review of dietary supplements
Evaluation of your current over-the-counter or prescription drugs and supplements and their interaction with certain foods
Preparation of a customized balanced eating plan that takes into consideration your current lifestyle
Individual Sport Nutrition Counselling
Our comprehensive sport nutrition assessment is designed to provide you with a detailed plan to help you achieve your sports performance goals. Our registered dietitians will work closely with you to optimize your food intake as it relates to your sport-specific requirement.
The assessment includes the following:
Analyzing your food, including the timing and types of foods you consume; issues such as energy, weight and body composition that may result from various food choices; the relation of diet and illness; and how your diet may be impacting your risk of developing chronic disease
Types of food you eat
Timing of those foods
Energy generated based on your food
Review of your supplements
Evaluation of your energy and macronutrient needs (protein, carbohydrates, and fat) for your level of activity, preferred ratios and isolating deficiencies
Identification of underlying health issues that could impact your ability to train and compete
Anemia
Stress fractures
Eating disorders
Preparation of a customized balanced eating plan that takes into consideration your current lifestyle and schedule
Resting (Basal) Metabolic Rate Testing (RMR)
The resting metabolic rate test, a 15-minute non-invasive assessment, uses diagnostic technology to determine how many calories your body burns while at rest. The results of this test are fundamental for estimating how many calories you should be eating and helpful for those trying to manage their weight This test is also valuable for active individuals who want to know how to effectively eat for their sport. At the conclusion of the test, you will meet with a dietitian to discuss a customized meal plan based upon your energy requirements.
Executive Weight-Loss Coaching Program
Executive Weight-Loss Coaching Program
Our Cleveland Clinic Canada Weight Loss coaching program goes beyond dieting and focuses on behaviour change.
Losing weight (and keeping it off) is not just a matter of willpower and a healthy eating plan. Diets are short term measures that are virtually impossible to maintain permanently. A combination of cognitive (thinking) and behavioural skills are required for long term success.
Coaching can help you to identify what is preventing successful weight loss and provide you with a sense of direction and control over the process. Our 4 month intensive coaching program will help you to identify the barriers to your weight loss and ways to help you move beyond them.
Your weight loss coach respects that we all make food mistakes. Our unique coaching program teaches you exactly what to do immediately following a mistake, and how to solve problems and prevent future reoccurrences.
Weight loss coaching will help you to:
Think differently and overcome common dieting pitfalls and sabotaging thoughts
Eat your favourite foods while losing weight
Feel in control in the most challenging situations
Feel confident in your ability to follow a healthy diet and exercise plan
Remain motivated to maintain weight loss for life
Your coaching program includes weekly individual and/or group coaching sessions.
Individual Sessions:
Personalized goal setting
Weigh-in
Review and feedback of food journaling
Discussion of individual weekly challenges
Understanding and rethinking sabotaging thoughts
Review of physical activity
Group Sessions:
Like-minded individuals with similar goals
Integrative in nature, not educational
Identifying barriers/traps and finding solutions, creating escape plans
Celebrating successes/victories
Your first session is to be completed in person at the clinic. For your convenience, all individual follow-up sessions can be completed remotely via online virtual meetings or telephone.
For more information, please contact our Weight Loss Coach:
Jaclyn Pritchard, RD
Phone: 416.507.6752
Email: pritchj@ccf.org