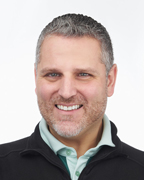 Paul Papoutsakis is a Certified Athletic Therapist at Cleveland Clinic Canada. He is a Certified Strength and Conditioning Specialist and holds a Doctorate in Acupuncture.
Originally from Vancouver, BC, Mr. Papoutsakis graduated from the University of British Columbia with a degree in Human Kinetics and went on to complete his Diploma in Sports Injury Management at Sheridan College. He divides his time between Isokinetic Biodex testing and rehabilitation, custom bracing, acupuncture and athletic therapy treatments.
Actively involved in the world of competitive sports, Mr. Papoutsakis has been the Company Athletic Therapist for the National Ballet of Canada for over a decade. He provides all orthopaedic assessments, manual treatments and rehabilitative conditioning programs for the dancers.
Mr. Papoutsakis has presented at the Performing Arts Medicine Association on the topic of warm up and cool down techniques for professional dancers. He is a member of the Dance USA Task Force on Dancer Health, where he helps to collect data on professional dancers to analyze trends in injuries and make recommendations on how to improve training on a professional level.
When he is not seeing patients, Mr. Papoutsakis likes to spend time with his wife and two daughters. He enjoys working out and runs boot camp classes.
Education/Training
Doctorate

Open University of Complementary Medicine
Acupuncture
Sri Lanka

Degree

University of British Columbia
Human Kinetics
Vancouver, BC

Diploma

Sheridan College
Sports Injury Management (Athletic Therapy)
Oakville, ON
Certifications
Athletic therapy
Strength and conditioning
Acupuncture
Specialty Interests
Feet, shins, knees and back treatments
Professional Memberships
Registered Kinesiologist (R.Kin) – College of Kinesiologists of Ontario (CKO)
Canadian Athletic Therapists Association (CATA)
Ontario Athletic Therapist Association (OATA)
National Strength and Conditioning Association (NSCA)
International Association for Dance Medicine & Science (IADMS)
The Canadian Examining Board of Health Care Practitioners