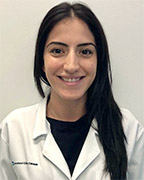 Biography
Vanessa Decesare is a Physiotherapist at Cleveland Clinic Canada. She has a strong interest in concussion management in athletes, as well as knee and shoulder injuries.
Ms.Decesare knew from an early age that she wanted to go into the field of healthcare and channeled her interest in kinesiology into a career in physiotherapy. She obtained her Bachelor of Science from Brock University before relocating to Melbourne, Australia to complete her Doctor of Physiotherapy. She has many years of experience in the assessment, diagnosis and management of musculoskeletal issues, particularly cervical and lumbar spine, knee, ankle, shoulder and elbow related pain. In her treatments, she regularly employs techniques such as joint mobilization and manipulation, manual therapy, exercise prescription, Pilates, and low/high voltage electrotherapeutic devices and ultrasound.
Ms. Decesare uses evidence-based treatments and is dedicated to helping her patients return to their highest functioning level. She previously acted as a sports trainer, focusing on acute injury prevention and management. Ms. Decesare has previously volunteered her time with Team Up Against Concussion (TUAC) to help educate children on the basics of concussion and to promote self-advocacy in sport.
When she's not treating patients, Ms. Decesare loves to spend time outdoors with her dog Benjamin.
Education/Training
Doctor of Physiotherapy

University of Melbourne
Melbourne, Australia
Bachelor of Science (Hons)

Brock University
St. Catharine's, ON
Certifications
Lyn Watson Shoulder Course- Level 1
The Sporting Lower Limb- Assessment and Management
Specialty Interests
Concussion management
Knee injuries
Shoulder injuries
Professional Memberships
Canadian Physiotherapy Association