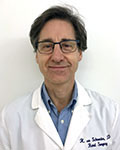 Biography
Herb von Schroeder, MD, is an Orthopaedic Surgeon at Cleveland Clinic Canada who specializes in assessing and treating conditions of the hand and wrist. He commonly treats carpal tunnel syndrome, trigger fingers, ganglia, ligament sprains and bony fractures as well as osteoarthritis and rheumatoid arthritis cases that require complex reconstructions and total joint replacements. He has a particular interest in minimally invasive hand procedures such as wrist arthroscopy.
Dr. von Schroeder completed his Doctor of Medicine at the University of British Columbia before going on to complete a Residency in Orthopaedic Surgery at the University of Toronto. During this time, he held the role of Chief Resident for the Surgical Scientist Program. Dr. von Schroeder pursued highly specialized training with a Fellowship in Hand, Upper Extremity and Orthopaedic Trauma Surgery at Sunnybrook Health Sciences Centre, followed by a Fellowship in Hand and Microsurgery at the C.M. Kleinert Institute in Louisville, Kentucky.
Actively involved in the world of academia, Dr. von Schroeder is an Associate Professor for the Division of Orthopaedic Surgery at the University of Toronto. He is also appointed at the Division of Plastic and Reconstructive Surgery at the University of Toronto as well as at Altum Health Hand, Wrist, and Upper Extremity Program at the University Health Network. He is a member of active staff for the Divisions of Orthopaedic and Plastic Surgery at the Toronto Western and General Hospitals and acts as a consultant for the Workplace Safety and Insurance Board in Toronto.
Dr. von Schroeder's research has been published in over one hundred peer-reviewed publications and journals. He has authored numerous textbook chapters and has presented his research findings at conferences and seminars across Canada, the USA and internationally. Dr. von Schroeder has received many awards and honours for his research, including Editors Choice paper in the Journal of Hand Surgery, Best Scientific Paper at the 10th Conference of the International Society for Fracture Repair in Adelaide, Australia, and the award as a Travelling Fellow from the Canadian Orthopaedic Association and American Orthopaedic Association.
When he's not treating patients, Dr. von Schroeder enjoys rock climbing and road cycling.
Education/Training
Fellowship

C.M. Kleinert Institute
Hand and Microsurgery
Louisville, KY

Fellowship

Sunnybrook Health Sciences Centre
Hand, Upper Extremity and Orthopaedic Trauma Surgery
Toronto, ON
Residency

University of Toronto
Orthopaedic Surgery
Toronto, ON
Masters of Science


University of Toronto
Toronto, ON
Doctor of Medicine

University of British Columbia
Vancouver, BC

Bachelor of Science (Honours)

University of British Columbia
Vancouver, BC

Certifications
Certificate Added Qualification in Hand Surgery
Diplomate, American Board of Orthopaedic Surgery
FRCS(C), Orthopaedic Surgery, Royal College of Surgeons of Canada
Principles of Surgery, Royal College of Surgeons of Canada
Specialty Interests
Minimally invasive hand procedures
Wrist arthroscopy
Hand and wrist joint replacements and reconstructions
Awards & Honours
Editor's Choice Paper – Journal of Hand Surgery
Best Scientific Paper: 10th Conference of the International Society for Fracture Repair
Traveling Fellow: Canadian Orthopaedic Association & American Orthopaedic Association
Robert Salter Award - Canadian Orthopaedic Foundation
Roscoe Reid Graham Scholarship, Department of Surgery (3 years), University of Toronto
Canadian Back Institute Award, Kennedy Day, University of Toronto
R.I. Harris Award, Most Outstanding Resident, University of Toronto
Canadian Back Institute Award, Kennedy Day, University of Toronto
Grand Rounds In Orthopaedics Winner, University of Toronto
Laidlaw Award of Excellence, Institute of Medical Science, University of Toronto
Robin Sullivan Research Award, Orthopaedic Division, University of Toronto
Honourable Mention for Research Paper, Institute of Medical Science, University of Toronto
Runner-up: Gallie-Bateman Prize Presentation Awards, University of Toronto
Medical Research Council of Canada Summer Research Award, The University of British Columbia
F.E. Heighway Research Award
Professional Memberships
American Society for Surgery of the Hand
American Association for Hand Surgery
International Wrist Investigators
Wrist Evaluation Canada
American Academy Orthopaedic Surgeons
Bone and Mineral Research Group
Kleinert Society
Canadian Orthopaedic Association
Sidney Smith Society of the Presidents' Circle, University of Toronto
University of British Columbia Medical Alumni
University of Toronto Surgical Alumni