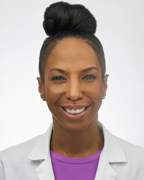 Biography
Marilyn Robinson is a NASM Certified Corrective Exercise Specialist and Personal Trainer at Cleveland Clinic Canada.
Ms. Robinson is dedicated to helping her patients create lasting physical and health changes. She develops comprehensive functional training programs to address asymmetries and improve symptoms that are caused from injury. In her practice, she also performs subjective assessments and Functional Movement Screens to understand how lifestyle, health history and occupation may contribute to a patient's dysfunction or future injury.
Ms. Robinson is passionate about challenging and inspiring her patients to perform at a fitness level that improves their lifestyle. She has experience working with individuals of all ages and abilities and has experience developing pre-surgery and post-rehabilitation exercise programs for medical condition or physical dysfunctions.
When she's not training patients, Ms. Robinson likes to work out and stay active.
Education/Training
Master of Business Administration

Ryerson University
Marketing
Toronto, ON

Bachelor of Technology

Ryerson University
Toronto, ON
Certifications
National Association of Sports Medicine (Certified Personal Trainer)
Precision Nutrition (Level 1 Certified)
National Association of Sports Medicine (Corrective Exercise Specialization)
Specialty Interests
Corrective exercise
Strength training and pain rehabilitation
Functional training
One-on-one and group training
Hypertrophy training
Corporate health and wellness presentations
Weight loss