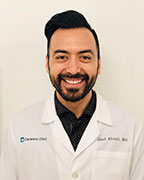 Biography
Jihad Abouali, MD, is an Orthopaedic Surgeon at Cleveland Clinic Canada who is dedicated to improving the quality of life of his patients. Dr. Abouali is particularly interested in arthroscopic surgery, sports medicine, and regenerative therapy. He specializes in injuries and issues of the shoulders and knees.
Raised in London, Ontario, Dr. Abouali obtained his Bachelor of Science from Western University before going on to complete his Doctor of Medicine and his residency in orthopaedics from McMaster University. A strong interest in athletics and the musculoskeletal system lead him to the University of Toronto, where he completed his fellowship in sports medicine.
Dr. Abouali is an active member of the medical community. He lectures at the University of Toronto and has been involved in numerous research projects. His work has been published in numerous medical journals and he has presented his findings at conferences across North America. He is the Volunteer Orthopaedic Consultant for the March of Dimes and the Member and Fellowship Supervisor for the University of Toronto Orthopaedics and Sports Medicine department.
Passionate about the world of sports, Dr. Abouali is currently the Team Orthopaedic Surgeon for Rugby Ontario. He previously acted as the Co-Orthopaedic Surgeon for the Toronto Argonauts, the Medical Examiner for the Basketball Canada Men's Senior team and the Team Orthopaedic Surgeon for the Toronto F.C. He was appointed the role of Lead Physician for the 2015 Toronto Pan Am Games.
When he's not working, Dr. Abouali enjoys playing sports (mostly soccer), creating and playing music (piano, trumpet, DJing), and travelling the world.
Education/Training
Fellowship

Sports Medicine
University of Toronto
Toronto, ON

Residency

Orthopaedics
McMaster University
Hamilton, ON

Doctor of Medicine

McMaster University
Michael DeGroote School of Medicine
Hamilton, ON

Bachelor of Science

University of Western Ontario
London, ON
Certifications/Training
Fellow of the Royal College of Physicians and Surgeons of Canada
Fellow of the American Orthopaedic Society for Sports Medicine
Advanced Trauma and Life Support
Advanced Musculoskeletal and Limb Support
AO Basic Principles and Techniques Course
Principles and Practice of Clinical Research
Specialty Interests
Arthroscopic surgery
Sports medicine
Regenerative therapy
Professional Memberships
Arthroscopy Association of North America
Canadian Orthopaedic Association
American Academy of Orthopaedic Surgeons
Canadian Medical Association
Ontario Medical Association
Awards and Honours
Michael Garron Hospital Collaborative Education Research Grant
Research Advisory Committee Resident Research Grant – McMaster University
Dr. Kirkpatrick Award for best clinical research- McMaster University
1st place CORE Surgical Program Research Award