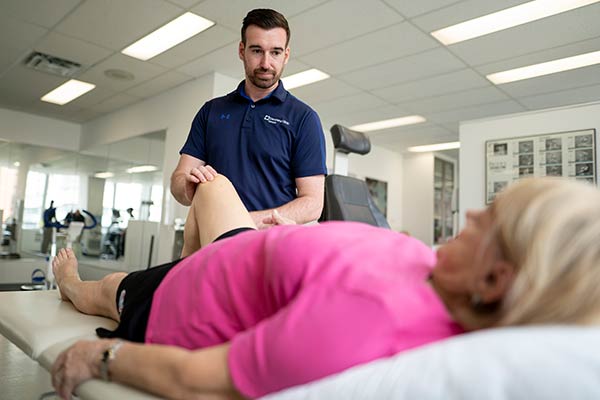 At Cleveland Clinic Canada, we believe overall health is only achieved when you acknowledge and address the needs of the whole body. This is also the philosophy behind osteopathic medicine - the whole body must function together for optimal health. If one part of the body is compromised with an injury, then the rest of the body must adapt and compensate for this, eventually leading to inflammation, pain, stiffness and other health conditions.
Our osteopathic manual practitioners use non-invasive manual therapies that focus on achieving total body health by treating and strengthening the musculoskeletal framework, which includes the joints, muscles and spine as well as the body's nervous, circulatory and lymphatic systems.
What Is an osteopathic manual practitioner?
An osteopathic manual practitioner has extensive training in manual osteopathic practice and can assess and treat patients using gentle manual techniques.
Osteopathic manual practitioners do not simply concentrate on treating the problem area, but use manual techniques to balance all the systems of the body to provide optimal health and wellbeing. Ultimately, there is reduced pain and greater mobility which allows the body to heal itself.
Our osteopathic manual practitioners have masters degrees and extensive experience treating elite athletes, including the ATP World Tennis Tour, the Ladies European Golf Tour and the Ladies Professional Golf Association.
What We Treat
Our osteopathic manual practitioners treat a broad range of conditions that affect the musculoskeletal, circulatory, respiratory, and nervous systems, including:
Back injuries.
Neck injuries.
Chronic pain.
Tension or stress-related problems including headaches or migraines.
Ligament or muscle sprains due to overuse or sports.
Peripheral injuries like shoulder pain, knee pain and ankle pain.
Many more.
Our osteopathic manual practitioners encourage you to become an active participant in your recovery plan. We work closely with you to improve your ability to move as you recover from illness, disease, injury or long periods of inactivity.
Osteopathy
Achieve reduced pain and greater mobility with a full-body treatment approach.
Purchase Today
Osteopathic manual practitioners use a broad range of gentle, hands-on techniques, including:
Soft tissue stretching.
Muscle energy techniques.
Deep tactile pressure.
Mobilization or manipulation of joints.
Ligament balancing techniques.
Cranial therapy.
Exercise for strength and conditioning.
Dry needling.
Sports taping.
Our osteopathic manual practitioners may also choose to use the Game Ready® MED4 Elite hot and cold compression system in their treatment plans. This is a state of the art device that uses iceless cold, controllable heat, rapid contrast, and active compression therapies to reduce pain, control edema or swelling, encourage arterial blood flow, improve range of motion, and accelerate the body's natural healing mechanisms.
Are you covered?
Osteopath services are not covered by OHIP, though may be partially or fully covered by extended health insurance plans. The coverage for each carrier is different; please check your plan to see what coverage is available for this type of service.
Our Team
View Other Sports Health Services:
Locations
Cleveland Clinic Canada Downtown
181 Bay Street
Brookfield Place: 30th Floor
Toronto, Ontario M5J 2T3