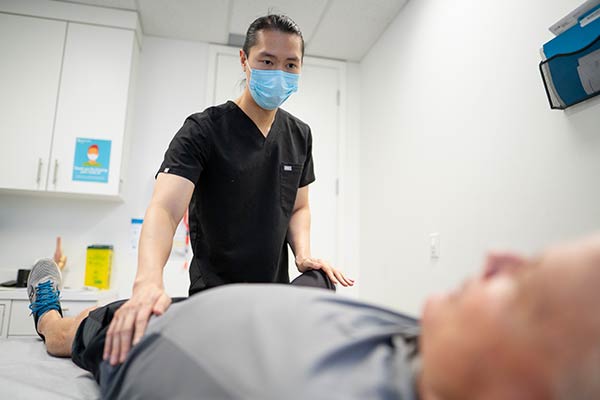 At Cleveland Clinic Canada, we are experts at diagnosing your injury and recommending the appropriate care to get you back to your normal activities.
A detailed evaluation and accurate diagnosis are key factors in establishing the correct treatment approach for your injury or issue. After being assessed by your sports medicine physician, you may, if necessary, receive on-site lab work or x-rays. This also allows our team to provide timely feedback about your injury or issue.
Consultations and imaging are covered by OHIP and there is no referral required.
What is a sports medicine physician?
A sports medicine physician is a physician who has completed a residency plus elected to receive specialized training in sports medicine.
They are dedicated to promoting lifelong fitness and wellness and encouraging the prevention of illness and injury. They have specialized training and skills which position them to be caregivers for patients of all different fitness levels. Within Canada, a CASEM Diploma in Sport and Exercise Medicine is the accepted credential for a Sports Medicine physician.
What We Treat
A Sports Medicine physician's scope of care includes diagnosing and managing acute injuries, musculoskeletal conditions and illnesses that affect lifestyle and performance.
Common conditions may include:
Acute and overuse injuries (sprains, strains, fractures, tendonitis).
Chronic musculoskeletal conditions (chronic muscle injuries, osteoarthritis).
Concussions and concussion management.
Pre-participation physical assessments to determine safety of engaging in specific sport related activities.
Return-to-play decisions for the sick or injured athlete.
Athletes with chronic or acute illnesses (such as mono, asthma, hypertension or diabetes).
Many more.
Once a diagnosis is established, we will recommend a treatment plan. This could include:
Physical rehabilitation (physiotherapy, chiropractic, massage therapy, osteopathy).
Medications to manage symptoms.
Bracing and taping.
Exercise and performance counselling.
Corticosteroid (cortisone) injections to relieve pain and inflammation.
Hyaluronic acid injections. Also known as hyaluronate, this is an essential component of normal joint fluid. This "joint jelly" has been produced synthetically and can easily be injected as a single shot into nearly any osteoarthritic joint to supplement the existing synovial fluid. This provides partial pain relief for 6 to 12 months in about 80% of joints with mild to moderate osteoarthritis. The only apparent risk is infection but this is rare (1 in 10,000 chance) and is the same risk as any joint injection.
Are you covered?
Physician consultations and imaging are covered by OHIP.
Our Team
Downtown
Ira Smith, MD, Dip. Sport Med - Physician Lead, Sports Health
Julia Alleyne, MD, BHSC(PT), CCFP(SEM), FCFP, MScCH - Sports Medicine Physician
Joo Yoon, MD, CCFP(SEM), Dip. Sport Med - Sports Medicine Physician
Midtown (Sports Medicine Specialists)
View Other Sports Health Services:
Locations
Cleveland Clinic Canada Downtown
181 Bay Street
Brookfield Place: 30th Floor
Toronto, Ontario M5J 2T3
Cleveland Clinic Canada Midtown (Formerly Sports Medicine Specialists)
150 Eglinton Ave East
5th Floor
Toronto, Ontario M4P 1E8