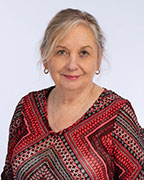 Biography
Alice Kusznir is a Registered Occupational Therapist and Psychotherapist at Cleveland Clinic Canada. Ms. Kusznir is experienced in the interpersonal psychotherapy and cognitive therapy models of psychotherapy as well as various approaches to treating trauma. She has a particular interest in Cognitive Behaviour Therapy as well as the Interpersonal Psychotherapy Models and their applications to patients with depression, anxiety, workplace stress and burnout. She also has a strong interest in understanding and learning more about the challenges faced by women in executive positions.
Ms. Kusznir first obtained her Bachelor of Science in Occupational Therapy from the University of Toronto. She went on to complete her Masters in Education from the University of Toronto. Always looking to learn the latest in her field, Ms. Kusznir has completed additional training in a wide range of clinical areas. These include Cognitive Behaviour Therapy Training with the Beck Institute of Cognitive Behavior Therapy, Anxiety Disorders and Personality Disorders, Aboriginal Cultural Competence, Infant Mental Health and Child and Youth Mental Health.
Passionate about higher learning, Ms. Kusznir has attended over 40 academic and public conference presentations. Her research has been published in numerous scientific journals such as the Journal of Occupational Science, the Journal of Affective Disorder, and the Canadian Journal of Occupational Therapy. Previously, she held the role of Educator in the Occupational Therapy Program at the University of Toronto as well as the role of Casual Professor in the Occupational Therapist & Physical Therapist Assistant Program at Georgian College.
When she's not treating patients, Ms. Kusznir enjoys cooking, gardening, Pilates and tango dancing.
Education/Training
Masters

University of Toronto
Education
Toronto, ON
Bachelor of Science

University of Toronto
Occupational Therapy
Toronto, ON
Certifications
Beck Institute: Essential of Cognitive Behavior Therapy, Depression, Anxiety Disorders and Personality Disorders
Foundations for Teaching (Georgian College)
Tri-Council Policy Statement: Ethical Conduct for Research Involving Humans Participants
Infant Mental Health Certificate with SickKids Hospital
SharePoint, NVivo & Excel On-line Certificate with the University of Toronto
Specialty Interests
Cognitive Behaviour Therapy
Interpersonal Psychotherapy Model
Depression
Anxiety
Workplace stress and burnout
Professional Memberships
Ontario Society of Occupational Therapists
College of Occupational Therapists of Ontario
College of Registered Psychotherapists of Ontario (In progress)