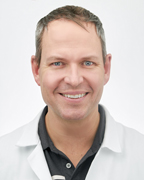 Biography
Dr. Cam Borody is a Chiropractor at Cleveland Clinic Canada.
Dr. Borody graduated with a Bachelor of Science from the University of Winnipeg. While at the University of Winnipeg, he was a member of the varsity men's volleyball team. He graduated from the Canadian Memorial Chiropractic College (CMCC) in Toronto. After graduating, he entered a two year, full-time sports sciences residency program which provided an opportunity to study with medical and chiropractic specialists in orthopaedics, diagnostic imaging and rehabilitation.
After completing the residency program, Dr. Borody became a faculty member at the Canadian Memorial Chiropractic College, where he mentors chiropractic students at the Sherbourne Chiropractic Clinic. He is a Fellow of Royal College of Chiropractic Sports Sciences (Canada). Dr. Borody has completed continuing education courses in Active Release Technique, Graston, Sound Assisted Soft Tissue Mobilization and acupuncture levels I and II. He also provides all of the high energy extracorporeal shock wave therapy at the midtown clinic.
Dr. Borody currently holds the role of Head Therapist for the Toronto Six women's professional hockey team. He is a member of the Integrated Support Team for the Canadian men's and women's beach volleyball teams and also works with the Canadian men's soccer team. Additionally, he holds the role of consulting chiropractor for the National Ballet of Canada. He has previously worked with provincial and national level athletes including the 2009 Canada Summer Games, 2015 Pan Am Games, the Saskatchewan Roughriders (CFL), Toronto Lynx Soccer Club, several CPSL teams and various other sports.
Dr. Borody has published papers in peer reviewed journals including Medicine and Science in Sports and Exercise, Journal of Manipulative and Physiological Therapeutics, and the Journal of Chiropractic Education.
When he's not seeing patients, Dr. Borody likes to spend time with his family and work on home renovation projects. He maintains an active lifestyle and enjoys participating in hockey, basketball, golf, tennis, running and weight training.
Education/Training
Residency

Canadian Memorial Chiropractic College
Sports sciences
Toronto

Doctorate

Canadian Memorial Chiropractic College
Toronto, ON

Bachelor of Science

University of Winnipeg
Chemistry
Winnipeg, MB
Certifications
Active Release Technique
Graston Technique
Sound Assisted Soft Tissue Mobilization
Acupuncture – Level 1 and II
First Responder Certification Course – Canadian Red Cross
Specialty Interests
Professional Memberships
Canadian Chiropractic Association (CCA)
Ontario Chiropractic Association (OCA)
Canadian Memorial Chiropractic College (CMCC)
Royal College of Chiropractic Sports Sciences – Canada (RCCSS(C))
Canadian Society of Chiropractic Examiners