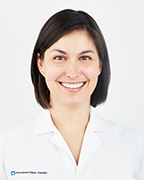 Biography
Rachel Doucet is a physiotherapist at Cleveland Clinic Canada.
Ms. Doucet has been involved in the world of sports and physical activity for as long as she can remember. She decided to pursue this passion as a career and obtained her Bachelor of Science in Kinesiology from Dalhousie University in Halifax before going on to complete her Masters in Physiotherapy. She has experience working with a multitude of injuries and issues such as sport injuries, acute/chronic injuries, post-op rehab, motor vehicle accidents and workplace injuries as well. She also completes strength and conditioning training for her clients and has experience working as PSP (fitness trainer) for the Canadian Armed Forces.
Always looking to learn the latest in her field, Ms. Doucet has completed a variety of courses. She is a certified provider of acupuncture and has completed levels one and two of advanced Orthopaedic manual and manipulative physiotherapy. She's also certified in the McKenzie Method Part A & B as well as Mulligan Concept.
Ms. Doucet has been actively involved with many sports and athletics teams. She acted as the trainer for the Major Bantam Hockey team ACCEL HAWKS and presented her knowledge on injury prevention to the Halifax Ultimate Frisbee community. Ms. Doucet has also has provided care for numerous events, including the National Skate Championship, Elite Gymnastics, Major Bantam Hockey, ICE JAM, Judo Nova Scotia, Canada Games: Halifax , Canada Games: Judo Test Event, Special Olympics, NSSAF Track and Field Championships and the St. Mary's University Women's Rugby Team.
When she's not treating patients, Ms. Doucet enjoys spending time with her family exploring the city and playing outdoors. She stays active with ultimate Frisbee.
Education
Masters

Dalhousie University
Physiotherapy
Halifax, NS

Bachelor of Science

Dalhousie UniversityKinesiology

Halifax, NS
Certifications
Sport First Responder & CPR/AED Level HCP
Diploma of Advanced Orthopaedic Manual and Manipulative Physiotherapy: Level 2 Lower Quadrant
Diploma of Advanced Orthopaedic Manual and Manipulative Physiotherapy: Level 1 Exam
McKenzie Method (MDT) Part A & B
Mulligan Concept: Upper & Lower Quadrant
Melioguide: Building a Stronger Core
Sahrmann: Intro to Concepts and Applications & Lower Quarter Advanced Application
Acupuncture: Level 1
Specialty Interests
Sport rehab
Sport coverage
Strength and conditioning
Professional Memberships
Canadian Physiotherapy Association