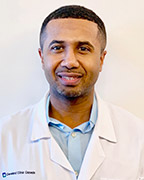 Biography
Husam Abdel-Qadir, MD, is a Cardiologist at Cleveland Clinic Canada. He commonly helps to treat patients with heart disease and the risk factors involved with heart disease.
Dr. Abdel-Qadir obtained his Doctor of Medicine from the University of Toronto, where he was awarded the silver medal. He went on to complete his residency in Internal Medicine. A strong interest in cardiology led him to pursue a residency and fellowship in cardiology, followed by a specialized fellowship in echocardiography from St. Mike's Hospital. He has since developed an interest in cardiovascular disease among patients with cancer and other non-cardiovascular co-morbidities. He completed a PhD in Clinical Epidemiology and Health Care Research at the University of Toronto's Institute for Health Policy, Management, and Evaluation.
Actively involved in the medical community, Dr. Abdel-Qadir acts as an Assistant Professor of Medicine at the University of Toronto as well as a scientist at Women's College Research Institute, the Ted Rogers Centre for Heart Research, and the Institute for Clinical Evaluative Sciences. Dr. Abdel-Qadir has been involved with the University of Toronto Health Sciences Summer Mentorship since 1999. He is also a member of the Community of Support for the Faculty of Medicine at the University of Toronto. He has peer-reviewed several medical journals, including the Journal of Cardiac Failure, The Canadian Medical Association Journal and the Nature Partner Journals Precision Oncology.
Dr. Abdel-Qadir's work has been published in numerous medical journals and medical textbooks, and he has presented his research findings across Canada, the U.S and Europe. At present, the primary focus of his research program is the long-term cardiovascular health of breast cancer survivors. In recognition of his research productivity, he was awarded the 2017 European Society of Cardiology Young Investigator Award in the Clinical Sciences Category and the inaugural Young Investigator Competition at the 2017 Global Cardio-Oncology Summit. He has also been nominated by the University of Toronto for the 2018 Polanyi prize in Medicine/ Physiology.
When he's not treating patients, Dr. Abdel-Qadir enjoys playing and watching sports. He's a season ticket holder for the Toronto Raptors and Toronto FC and he plays soccer recreationally.
Education/Training
PhD

PhD University of Toronto
Clinical Epidemiology and Health Care Research
Toronto, ON
Fellowship

St. Michael's Hospital
Echocardiography
Toronto, ON
Fellowship

Royal College of Physicians and Surgeons of Canada
Cardiology
Toronto, ON
Residency

University of Toronto
Cardiology
Toronto, ON
Fellowship

Royal College of Physicians and Surgeons of Canada
Internal Medicine
Toronto, ON
Residency

University of Toronto
Internal Medicine
Toronto, ON
Residency

Doctor of Medicine
Toronto, ON
Bachelor of Science

University of Toronto, Trinity College
Honours with High Distinction
Toronto, ON
Certifications
Diplomate of the American Board of Internal Medicine (Internal Medicine)
Diplomate of the American Board of Internal Medicine (Cardiovascular Disease)
Certification Board of Nuclear Cardiology
National Board of Echocardiography Examination of Special Competence in Adult Echocardiography
Specialty Interests
Heart disease
Prevention of heart disease
Professional Memberships
College of Physicians and Surgeons of Ontario