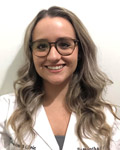 Biography
Samantha Steeves is a Registered Practical Nurse at Cleveland Clinic Canada. Ms. Steeves has a particular interest in mental health, as well as end of life palliative care and medicine.
Ms. Steeves completed her Diploma as a Registered Practical Nurse from Centennial College. She has since completed additional certification in a wide variety of clinical areas, including Basic Life Support (BLS), DementiAbility, IDEAS Foundations of Quality Improvement Program, intravenous therapy, phlebotomy, wound care, diabetes education, perinatal care, crisis prevention intervention (CPI) training and the Safe Talk program for suicide awareness training.
Ms. Steeves is dedicated to making her patients feel heard, advocated for and confident with their plans of care. She previously held the role of Clinical Program Lead and Primary Case Manager at the Ministry of Health and Long-Term Care. She has many years of experience in geriatric care, having provided nursing care at a long term care home. In this role, she acted as a unit charge nurse responsible for the well-being of 40 residents and the supervision of the personal support working staff during a COVID-19 outbreak. She has also been an active participant in several Continuous Quality Improvement and Professional Advisory Committees.
When she's not treating patients, Ms. Steeves enjoys spending time with her family and friends, as well as travelling, hiking and trying new plant-based foods. She is bilingual in English and French.
Education/Training
Diploma

Centennial College
Practical Nursing
Toronto, ON
Certifications
Basic Life Support (BLS)
DementiAbility
IDEAS Foundations of Quality Improvement Program
Restorative Care
Wound Care
Diabetes Education
Perinatal Care
Basic Arrhythmia Interpretation
Crisis Prevention Intervention (CPI)
Safe Talk (Suicide Awareness Training)
Intravenous Therapy
LEAP Core – Pallium Canada
Phlebotomy Certificate
Specialty Interests
Mental health
Palliative care and medicine
Professional Memberships
College of Nurses of Ontario