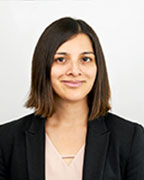 Biography
Ms. Santa-Maria Barbagallo is a registered psychologist with Cleveland Clinic Canada's Executive Health team. Ms. Santa-Maria Barbagallo treats a wide range issues, including anxiety, depression and low self-esteem. She also has experience helping her clients with relationship difficulties, transitional issues and managing work-life balance.
An interest in the area of biopharmaceutical science led Ms. Santa-Maria Barbagallo to get involved in neuroscience research, where she realized her passion for understanding people and human behaviour. She wanted to not only understand individuals but to help them grow and develop. She went on to obtain her Bachelor of Science in Psychology from the University of Ottawa before going on to complete her Masters in Counselling Psychology at McGill University.
Ms. Santa-Maria Barbagallo is particularly interested in the area of cognitive psychology-understanding how people think and behave. She is also interested in health psychology, which looks at the biopsychosocial factors that influence our health. She approaches the notion of wellbeing from a holistic perspective and looking at the individual factors that enable people to thrive.
Ms. Santa-Maria Barbagallo enjoys working collaboratively with her clients, providing them with tools and skill sets to overcome issues and seeing them come face to face with their challenges. She believes that health and wellness is a combination of body, mind and soul. These three areas work as a triad, each influencing one another in endless ways.
When she's not working, Ms. Santa-Maria Barbagallo enjoys travelling and spending time with her family. She also likes to exercise and practice yoga to help maintain balance in her life.
Education/Training
Master of Arts

McGill University
Counselling Psychology
Montreal, QC

Bachelor of Science

University of Ottawa
Psychology (Honours)
Ottawa, ON
Specialty Interests
Anxiety
Relationships
Self-esteem
Career (development and transition)
Professional Memberships
College of Psychologists of Ontario – Interim Autonomous Practice as Psychologist 2007- Present L'Ordre Des Psychologues Du Quebec (OPQ)