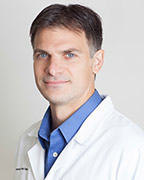 Biography
Gilles Beaudin is a Clinical Exercise Physiologist at Cleveland Clinic Canada. Mr. Beaudin evaluates the physical fitness, strength, endurance, and flexibility of patients in order to design customized exercise programs to help them achieve their health and fitness goals.
Born in New Brunswick, he completed his Bachelor of Sciences degree in Biology at the Université de Moncton followed by a Masters degree in Kinesiology at the Université Laval. In addition to being a Certified Exercise Physiologist, he is also a Certified Personal Trainer and Post-Rehabilitation Specialist.
As a Clinical Exercise Physiologist, Mr. Beaudin conducts and directs exercise stress tests, oxygen consumption tests (VO2 Max) and EMG tests among others to evaluate cardiovascular function, metabolism, skeletal-muscle physiology and oxygen or fuel efficiency. Using this information and working with a multidisciplinary team of medical, sports, and nutrition specialists, Mr. Beaudin oversees the analysis, improvement, and maintenance of exercise performance plans for patients. These individualized programs address many issues, including helping patients to maintain their health, lower their risk of disease and assist with recovery from certain types of illness related to rehabilitation or surgery. Mr. Beaudin also supports and counsels recreational or competitive athletes on optimizing their physical performance and providing techniques to reduce injuries and improve recovery times.
When not caring for patients, Mr. Beaudin likes to read and spend time with his family and friends. He is fluent in both English and French.
Education/Training
Masters

Université Laval
Kinesiology
Quebec City, QC

Bachelor of Science

Université de Moncton
Biology
Moncton, NB
Certifications
Certified Exercise Physiologist
Certified Personal Trainer
Professional Memberships
CPTN - Canadian Professional Trainers Network