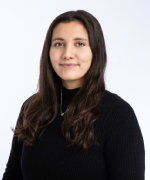 Biography
Sarah Power is an Exercise Physiologist at Cleveland Clinic Canada. Ms. Power is dedicated to working with her patients to help them achieve their health and wellness goals. She has a particular interest in strength training and injury prevention.
Ms. Power first obtained her Bachelor of Science in Kinesiology and Health Science from York University. Her strong interest in this field led her to pursue her Masters in Fitness Science and Masters in Education, both at York University. She has completed additional certification in personal training and in personal wellness and learning skills.
Through her placement at York University, Ms. Power holds the role of Teaching Assistant. In this role she works as a graduate strength and conditioning coach to develop programming, conduct weight training exercises and assist in preparations for a safe and effective environment in sport. She also acts as a Kinesiology Teaching Assistant at York University, assisting with laboratory sessions.
Passionate about the world of sport, Ms. Power is currently a member of Team Canada Women's Inline Hockey, acting as captain on multiple occasions and winning six medals at International Competitions. She previously volunteered her time at Hero's Hockey, helping at risk youth become involved in hockey.
When she's not treating patients, Ms. Power enjoys ice skating and rollerblading.
Education/Training
Masters (In progress)


York University
Education
North, ON
Masters (In progress)


York University
Fitness Science
North York, ON
Bachelor of Science

York University
Kinesiology and Health Science
North York, ON
Certifications
HFFC-Certified Exercise Physiologist
HFFC-Certified Personal Trainer
Graduate Certificate in Personal Wellness & Learning Skills- York University
CPR/First Aid Level C
Specialty Interests
Strength training
Injury prevention