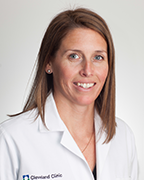 Biography
Andrea Stephen is a physiotherapist with the Sports Health team at Cleveland Clinic Canada. Ms. Stephen has experience treating all types of injuries, including sports strain/sprains, fractures, repetitive strain injuries, postural dysfunctions as well as post-surgical rehabilitation. She has a special interest in sports injuries of the lower body, and uses manual therapy, exercise prescription, acupuncture and electro-modalities to enhance her treatments.
Ms. Stephen first developed a passion for physiotherapy while volunteering at a clinic during her undergraduate studies in Waterloo, Ontario and decided to pursue a career in the field. After obtaining her Bachelor of Arts in Physical Education and Kinesiology from Wilfred Laurier University, Ms. Stephen went on to complete her Bachelor of Science in Physical Therapy from the University of Toronto.
Ms. Stephen has lent her expertise to many high profile sporting events, including The Commonwealth Games, the London Paralympics and the IPC World Championships. She is an internationally certified classifier with the International Paralympic Committee in Para-Athletics, where she assesses athletes to determine their eligibility to compete. She is currently a member of the Integrated Support Team (IST) for the Canadian Track and Field Team (Athletics Canada) and was selected to work as a physiotherapist for both the 2015 Pan Am and 2015 Para Pan Am Games in Toronto.
When she is not treating patients, Ms. Stephen stays active with Pilates. She loves to spend time with her nephews and nieces and enjoys watching English Premier League soccer.
Education/Training
Bachelor of Science

University of Toronto
Physical Therapy Toronto, ON

Bachelor of Arts

Wilfred Laurier University
Physical Education and Kinesiology Waterloo, ON
Certifications
Sport First Responder
Part 1, 2A, 3A Acupuncture
Level 1 and 2 Advanced Orthopaedic Manual Therapy Lower Extremity
APTEI Foot and Ankle
APTEI Thoracic Spine
Mulligan Concepts, Upper and Lower Quadrant
Sahrmann Level 1: Diagnosis and Treatment of Movement System Impairment Syndromes
Management of Common Hand Injuries
Spider Tech Taping inservice
Stott Pilates Therapeutic Foundations Workshop
New Trends in the Prevention of Running Injuries
New Advances in Hip Rehabilitation
McGill: The 3 hour Back Assessment
Specialty Interests
Sports injuries
Lower body injuries
Professional Memberships
Canadian Physiotherapy Association
Ontario Physiotherapy Association
Sport Physiotherapy Division of CPA
College of Physiotherapists of Ontario