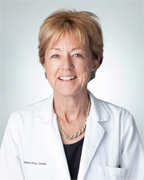 Biography
Cathy J. Campbell, MD, is an Executive Health Physician at Cleveland Clinic Canada. In her role, Dr. Campbell provides comprehensive health assessments for Executive Health Program patients.
Born and raised in Halifax, Dr. Campbell completed her Bachelor of Physical Education degree at Dalhousie University. Following her passion for sports, she earned her Master of Sciences degree in Exercise Physiology from Dalhousie University, and competed and coached athletes in Track and Field for a decade in provincial, national and international levels. Dr. Campbell earned her Doctor of Medicine degree from McMaster University and completed her residency training at the University of British Columbia.
Dr. Campbell has an extensive background in sports medicine and family medicine with years of clinical excellence in the United States and Canada. Dr. Campbell is an Assistant Professor in the Department of Family and Community Medicine at the University of Toronto. Dr. Campbell was also the Team Physician for the London 2012 Olympic bronze-medal and 2011 Pan-American Games gold-medal winning Canadian Women's Soccer Team. Dr. Campbell has travelled with the team on over 50 trips since 2000 when she was first asked to join the squad. Dr. Campbell was also a member of an elite group of specialists selected by the Canadian Olympic Committee and the Vancouver Organizing Committee to support Canadian athletes during the XXI Olympic Winter Games in Vancouver, British Columbia. Highly respected in the field of sports, Dr. Campbell is the General Medical Officer and Doping Control Officer for FIFA, The Fédération Internationale de Football Association, for the Women's Under-20 and Senior Women's World Cups in 2014 and 2015.
In 2014, Dr. Campbell was inducted into the Nova Scotia Sports Hall of Fame. She was also awarded the CASEM Community Sport Medicine Physician award for 2014.
In her free time, Dr. Campbell enjoys fly fishing, running, and arts and culture.
Education/Training
Residency

University of British Columbia
Family Practice
Vancouver, BC
Doctor of Medicine

McMaster University
Hamilton, ON
Master of Sciences

Dalhousie University
Exercise Physiology
Halifax, NS
Bachelor of Physical Education

Dalhousie
Halifax, NS
Certifications
Certification, College of Family Physicians of Canada (CCFP)
Fellow, College of Family Physicians of Canada (FCFP)
Diploma in Sport Medicine (Dip. Sport Med.) Canadian Academy of Sport Medicine (CASEM)
Licentiate, Medical Council of Canada (LMCC)
Specialty Interests
Preventive Medicine
Musculoskeletal Medicine
Sports Medicine
Awards & Honours
Dalhousie University Alumni Achievement Award, Dalhousie University
Research Prize, Department of General Surgery, University of British Columbia
CIBA Medical Student Award, McMaster University
CASEM Community Sport Medicine Physician Award for 2014
In 2014, Dr. Campbell was inducted into the Nova Scotia Sports Hall of Fame
Professional Memberships
Canadian Medical Association
Ontario Medical Association
Canadian Academy of Sport Medicine
College of Family Physicians of Canada
American Academy of Family Physicians