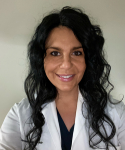 Biography
Raché Dos Santos is a Radiology Technologist at Cleveland Clinic Canada. Ms. Dos Santos is highly skilled at performing diagnostic x-ray procedures, bone mineral densities and mammography screenings.
Ms. Dos Santos first obtained her Bachelor of Science in Life Science from the University of Toronto, before going on to complete her Diploma in Radiology Technologies: Diagnostic Imaging at Dawson College in Montreal. She has since achieved certification in a wide variety of areas, including Bone Mineral Density (BMD), Workplace Hazardous Materials Information System (WHMIS), Ontario Breast Screening Program (OBSP), and Mammography Levels 1 and 2.
When she's not seeing patients, Ms. Dos Santos enjoys spending time with her family, cake decorating and working out.
Education/Training
Diploma

Dawson College
Radiology Technologies: Diagnostic Imaging
Montreal, QC
Bachelor of Science

University of Toronto
Life Science
Toronto, ON
Certifications
CPR/First Aid
Bone Mineral Density (BMD)
Workplace Hazardous Materials Information System (WHMIS)
Ontario Breast Screening Program (OBSP)
Mammography 1&2
Specialty Interests
Women's health
Mammography
Professional Memberships
College of Medical Radiation and Imaging Technologists of Ontario
Ontario Association of Medical Radiation Sciences