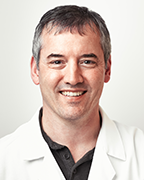 Biography
Jeff McAleer is an Exercise Physiologist at Cleveland Clinic Canada. Mr. McAleer has over 20 years of experience working with a wide variety of clients including youths, teens, young adults, maturing adults, seniors and professional athletes. He has a particular interest in working with his patients to restore optimal movement patterns, develop strength and coordination and establish exercise as part of a daily lifestyle.
Mr. McAleer's interest in personal fitness began at an early age, when he was playing basketball competitively. Being undersized, Jeff left no stone unturned in discovering a competitive edge. He decided to follow this passion for sport and conditioning and obtained his Bachelor of Science in Kinesiology at Dalhousie University in Halifax, Nova Scotia. During his time at Dalhousie, he was a member of the Dalhousie Tigers Men's Basketball Team.
Mr. McAleer is dedicated to helping his patients achieve their health and fitness goals and believes establishing sound, fundamental movement patterns is the key to success. Here at the clinic, he lends his expertise to both the Executive Health Program and the Personal Training Plus Program and helps patients incorporate effective and efficient exercise protocols in their lifestyles.
In his spare time, Mr. McAleer enjoys spending time with his family, exercising, cooking and reading.
Education/Training
Bachelor of Science

Dalhousie University
Kinesiology
Halifax, NS
Certifications
Certified Strength and Conditioning Specialist (NSCA)
SFA/CPR (St. John's Ambulance)
Russian Kettlebell Certification (RKC)
Specialty Interests
Post-injury training
Strength training