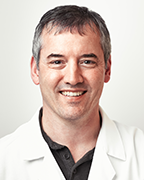 Biography
Jeff McAleer is a Certified Strength and Conditioning Specialist at Cleveland Clinic Canada. Mr. McAleer has over 25 years of experience working with a wide variety of clients ranging from relative newcomers to professional athletes. He has a particular interest in working with patients to restore optimal movement patterns, develop strength and coordination and establish exercise as part of a daily lifestyle. He is a believer in the concept that exercise is medicine, and that exercise can positively benefit human psychology.
Mr. McAleer is dedicated to helping his patients achieve their health and fitness goals. He believes that establishing sound, fundamental movement patterns through logical exercise progression is the key to success. Here at the clinic, he lends his expertise to both the Executive Health Program and the Movement and Performance Program and assists patients in incorporating exercise protocols into their lifestyles.
In his spare time, Mr. McAleer enjoys spending time with his family, exercising, supporting local sports teams, cooking and reading.
Education/Training
Bachelor of Science

Dalhousie University
Kinesiology
Halifax, NS
Certifications
Certified Strength and Conditioning Specialist (NSCA)
SFA/CPR (St. John's Ambulance)
Russian Kettlebell Certification (RKC)
Specialty Interests
Post-injury training
Strength training