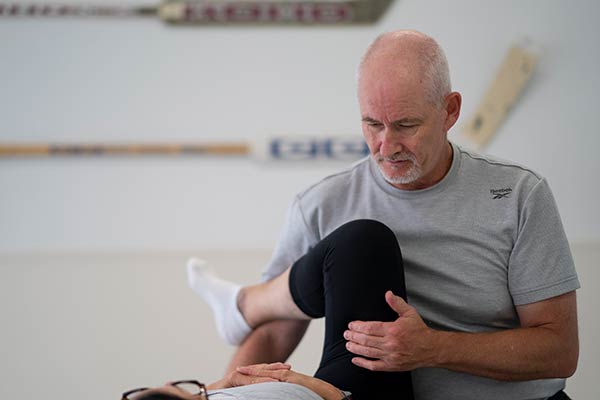 What is a physiotherapist?
Physiotherapists are experts in the science of movement. They work with you to pinpoint the root causes of an injury. In Ontario, a physiotherapist has obtained a graduate degree (or equivalent), plus specialized training in physiotherapy.
When should I see a physiotherapist?
If you have an injury or chronic pain that affects how you function, a physiotherapist can help. They will work with you to treat sports injuries, acute, degenerative, and overuse joint and muscular problems, surgical rehabilitation, arthritis, concussion care, postural imbalances, and loss of mobility or strength. Physiotherapists will help you recover from injury and work on a plan for prevention of future re-injury.
What can I expect?
Your session will be unique, because it is tailored you and your particular needs. In general, you can expect that your therapist will perform an assessment, diagnose your condition, create a treatment plan that includes your goals, and provide treatment. Treatment may include manual therapy, soft tissue mobilization, modalities (including ultrasound, electrodes, shockwave or acupuncture), gait training, bracing advice and exercise programs to address mobility, flexibility and strength.
Are you covered?
Physiotherapy services are not covered by OHIP, though may be partially or fully covered by extended health insurance plans. The coverage for each carrier is different; please check your plan to see what coverage is available for this type of service.
Our Team
Downtown
Midtown (Sports Medicine Specialists)
View Other Sports Health Services:
Locations
Cleveland Clinic Canada Downtown
181 Bay Street
Brookfield Place: 30th Floor
Toronto, Ontario M5J 2T3
Cleveland Clinic Canada Midtown (Formerly Sports Medicine Specialists)
150 Eglinton Ave East
5th Floor
Toronto, Ontario M4P 1E8