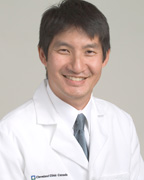 Biography
Gilbert Yu Ming Yee, MD, is an Orthopaedic Surgeon at Cleveland Clinic Canada and an active staff member in the division of Orthopaedic Surgery with The Scarborough Hospital. Dr. Yee holds special interest in orthopaedic surgery, which include sports medicine and foot and ankle reconstruction and is a Lecturer in the Department of Surgery at the University of Toronto. He has received many faculty and education awards from his expertise and is a speaker and presenter for continuing medical education lectures, industry seminars and academic initiatives.
Dr. Yee obtained his medical degree from the University of Toronto. With a passion for didactic delivery, he then decided to pursue his Master of Education degree at the Ontario Institute of Studies in Education, also at the University of Toronto. Demonstrating clinical expertise and upholding the highest standard of quality in healthcare, he is a Fellow of the Royal College of Surgeons of Canada in Orthopaedic Surgery.
His quest for academic and clinical excellence continued, becoming a Diplomate of the American Board of Orthopaedic Surgeons. In 2005, understanding the importance of business strategy as a complement to his medical career, he embarked on and completed his MBA at the University of Liverpool. In that same year, Dr. Yee became a Fellow of the American Academy of Orthopaedic Surgeons, the industries preeminent provider of orthopaedic education.
Dr. Yee, steeped in education and passionate about his work, has authored, co-authored or contributed to numerous medical publications and is a member of several orthopaedic-based professional organizations.
Education/Training
Sports Medicine Fellowship

Sunnybrook Health Science Centre
Orthopaedic and Arthritic Institute
Toronto, ON

Foot and Ankle Fellowship

Toronto Western Hospital
Toronto, ON

Fellowships

Fellow of the Royal College of Surgeons of Canada - Orthopaedic Surgery
Fellow of the American Academy of Orthopaedic Surgeons
Diplomate of the American Board of Orthopaedic Surgeons

Residency

University of Toronto
Orthopaedic Surgery
Toronto, ON

Doctor of Medicine

University of Toronto
Toronto, ON

Master of Education

University of Toronto
Toronto, ON

MBA

University of Liverpool
Master of Business Administration
Liverpool, England
Certifications
Fellow of the Royal College of Physicians and Surgeons of Canada (FRCSC)
Fellow of the American Academy of Orthopaedic Surgeons (FAAOS)
Diplomate of the American Board of Orthopaedic Surgeons (ABOS)
Specialty Interests
Orthopaedic Surgery
Sports Medicine
Foot and Ankle Reconstruction
Professional Memberships
Royal College of Surgeons of Canada (FRCSC)
American Academy of Orthopaedic Surgeons (FAAOS)
American Board of Orthopaedic Surgeons (ABOS)