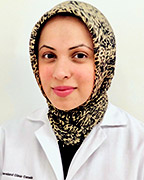 Biography
Benazir Siwjee is a Nurse Practitioner at Cleveland Clinic Canada. Ms. Siwjee has experience in a wide variety of clinical settings, treating acute and episodic illnesses (ear infections, minor injuries, sore throats etc.). She has a particular interest in pediatric care and women's health.
Ms. Siwjee first obtained her Bachelor of Science in Neuroscience and Psychology before completing her Bachelor of Science in Nursing. She went on to pursue her Master of Nursing as a Primary Health Care Nurse Practitioner. She has extensive training in the assessment and control of chronic and acute pain using a variety of treatment techniques and has provided chronic disease management, illness prevention and care for conditions such as respiratory, cardiovascular, surgical, mental health, diabetic, gastrointestinal and stroke.
Ms. Siwjee is focused on health promotion and illness prevention and is dedicated to conducting thorough health assessments of her patients. She has a strong passion for helping people and enjoys acting as an advocate for her patients and their families. Ms. Siwjee has given back to her community through several volunteer roles, including Canadian Blood Services and the Mosaic Interfaith Out of the Cold Program.
When she is not treating patients, Ms. Siwjee enjoys baking, cooking and travelling.
Education/Training
Master of Nursing

Ryerson University
Primary Health Care Nurse Practitioner
Toronto, ON
Bachelor of Science

University of Toronto
Nursing
Toronto, ON
Bachelor of Science (Honours)

University of Toronto
Neuroscience and Psychology
Toronto, ON
Certifications
CPR and Emergency First Aid Certification
Indigenous Cultural Safety Online Training Program
SafeTalk Suicide Alertness Training
Wound Care: Level 1: Best Practices in Pressure Ulcer Prevention
Wound care: Level 2: Best Practices in Pressure Ulcer Assessment and Treatment
IV Therapy: Central venous Catheter/Venipuncture
Specialty Interests
Pediatric
Women's health (pregnancy and postpartum)
Professional Memberships
Registered Nurses Association of Ontario
College of Nurses of Ontario
The American Association of Nurse Practitioners