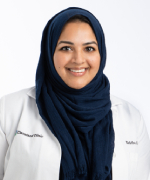 Biography
Habiba Kermally is a Registered Nurse in our Concierge Medicine Program. Ms. Kermally has experience in a range of clinical areas, including cardiac surgery, pediatrics, mental health, cancer care, neurology, and emergency medicine, and is a passionate advocate for patient-centered care. She has a strong interest in cardiology and cardiovascular/thoracic surgery.
Ms. Kermally was drawn to nursing as a career because of her passion for taking care of patients and transforming healthcare. She obtained her Bachelor of Science in Nursing (Honours) from York University. She has since completed certification in Advanced Cardiac Life Support (ACLS), Basic Life Support (BLS), Coronary Care 1 and Crisis Prevention and Intervention. She is dedicated to working with her patients to provide individualized care plans centered in evidence-infused practice.
Previously, Ms. Kermally provided nursing care at Cleveland Clinic Abu Dhabi in the United Arab Emirates. During this time, she held the role of Shift Leader and Nurse Preceptor in the Heart and Vascular Institute, caring for patients with varying cardiac, vascular, and pulmonary diagnoses. She also held the role of Case Manager, where she supported patients through the continuum of care by identifying resources, facilitating services to improve patient outcomes, and enabling a smooth discharge process.
When she's not treating patients, Ms. Kermally enjoys running, playing basketball and spending time in nature.
Education/Training
Bachelor of Science in Nursing

York University
North York, ON

Certifications
Advanced Cardiac Life Support (ACLS)
Basic Life Support (BLS)
Coronary Care 1
Crisis Prevention and Intervention
Specialty Interests
Cardiology
Cardiovascular/thoracic surgery
Professional Memberships
College of Nurses of Ontario (CNO)
Registered Nurses Association of Ontario (RNAO)