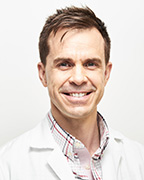 Biography
Scott Allen is a physiotherapist with the Sports Health team at Cleveland Clinic Canada. Mr. Allen has over 20 years of experience assessing and treating orthopaedic and musculoskeletal injuries and issues. He works with his patients to help them achieve their goals through a combination of manual therapy, education and progressive exercise techniques.
Mr. Allen believes that awareness is key for living a truly healthy life. He is passionate about educating his patients about their bodies and helping them move with more freedom and confidence. Mr. Allen's treatment plans focus on identifying underlying factors which are creating problems. He uses this understanding to create a path to pain relief, a return to physical activity and to prevent future injuries.
He commonly assesses and treats acute, chronic, traumatic, sports related and post-surgical conditions throughout the body. During his treatments, Mr. Allen employs a variety of techniques, including stretching and strengthening, massage, joint manipulation/mobilization, specialized soft tissue release techniques and/or neuromuscular release techniques. He is focused on creating a positive and empowering environment during the process of rehabilitation. The ultimate goal of his treatment approach is to allow his patients to be confident and fully restored to their desired lifestyle.
When he's not seeing patients, Mr. Allen enjoys renovating his home, seeking out new and old music, staying active and spending time with his wife and daughter.
Education/Training
Bachelor of Science

University of Toronto
Physical Therapy
Toronto, ON
Certifications
Polestar Pilates rehabilitation
Stott rehabilitation Pilates
Mckenzie A,B,C,D
Lumbar spine - Advanced physical therapy education institute
The Performance Matrix
Specialty Interests
Treatment of chronic unresolved sports injuries
Specialized exercise and therapeutic movement techniques
Altered movement patterning in the creation of shoulder, lower back, hip and knee pain
Sports and performance
Professional Memberships
Canadian Physiotherapy Association
Sports Physiotherapy Division