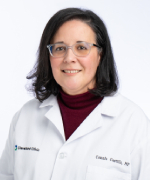 Biography
Connie Castillo is a Nurse Practitioner at Cleveland Clinic Canada. Ms. Castillo has extensive experience diagnosing and treating both acute and chronic conditions and has a particular interest in emergency medicine and orthopaedic surgery.
Ms. Castillo completed her Bachelor of Science in Nursing at Rutgers State University College of Nursing. She went on to complete an internship in Critical Care and Trauma, which consisted of formal classes as well as rotations in five various intensive care units and an emergency room setting. Ms. Castillo's passion for the field of nursing led her to pursue a Masters of Science as a Family Nurse Practitioner.
Ms. Castillo's career has covered a wide variety of geographical and clinical areas. She has provided care for areas such as pediatrics, chronic illness, emergency medicine, orthopaedic oncology and psychological care. Most commonly, she helps to diagnose and treat colds, allergies, minor injuries and minor skin complaints.
Always looking to learn the latest in her field, Ms. Castillo has completed continuing education in numerous medical areas, including ADHD, mental health, supplements and alternative therapies and complex patient care. She is dedicated to the pursuit of equal care opportunities for all members of our society.
When she's not seeing patients, Ms. Castillo enjoys spending time with her husband, daughter and close friends. She also likes to take her dog for walks and make custom cakes with her daughter.
Education/Training
Master of Science


Texas Women's University
Family Nurse Practitioner
Denton, TX

Internship

Parkland Health & Hospital System
Critical Care and Trauma Nurse
Dallas, TX

Bachelor of Science

Rutgers School of Nursing
Nursing
Newark, NJ

Certifications
Certified Emergency Nurse (CEN)
Specialty Interests
Emergency medicine
Orthopaedic surgery
Professional Memberships
Nurse Practitioner Association of Ontario (NPAO)