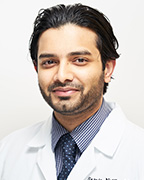 Biography
Syed Samir Najib, MD, is a Cardiologist at Cleveland Clinic Canada and the Medical Director for the cardiology lab services. He diagnoses and treats many conditions, including coronary artery disease, valvular heart disease, structural heart disease, conduction heart diseases and dyslipidemia.
Born in Abu Dhabi, United Arab Emirates, Dr. Najib studied his Bachelor of Medicine and Surgery at Gulf Medical University in Ajman, Dubai. He relocated to Cleveland, Ohio to complete his residency in Internal medicine at Cleveland Clinic's Fairview Hospital, before moving to Kingston, Ontario to complete his residency in Cardiology at Queen's University.
Dr. Najib is a Fellow of the Royal College of Physicians of Canada, Cardiology and a Fellow of the Royal College of Physicians of Canada, Internal Medicine. He is also a Fellow of the American college of Cardiology. He is particularly interested in primary prevention and coronary artery disease. Dr. Najib has contributed research for medical journals, including Echocardiography. In his practice, Dr. Najib believes prevention is always better than cure and that moderation and positivity are key factors for a healthy lifestyle.
When he's not treating patients, Dr. Najib enjoys travelling, watching movies and dining out.
Education/Training
Residency

Queen's University
Cardiology
Kingston, ON
Residency

Fairview Hospital
Internal Medicine
Cleveland Clinic, OH
Bachelor of Medicine and Surgery

Gulf Medical University, Ajman
(Dubai), UAE
Certifications
Arrhythmia Device Therapy
The Art of Cardiac Physical Examination
Advance Cardiac Life Support
NIHSS Stroke Certification
Specialty Interests
Primary prevention
Coronary artery disease
Professional Memberships
The Royal College of Physicians and Surgeons of Canada
Ontario Medical Association (OMA)
The College of Physicians and Surgeons of Ontario (CPSO)
The Canadian Medical Protective Association (CMPA)
The American College of Cardiology (ACC)