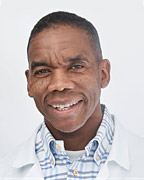 Biography
Angus Warner is a personal trainer at Cleveland Clinic Canada. As a sport and fitness trainer, his focus is on helping his clients achieve their goals and celebrate their accomplishments. His motto is to make it fun and enjoy the journey.
He has extensive experience coaching students, elite athletes and weekend warriors in a variety of sports, including volleyball, basketball, athletics (track and field) and cycling. He is dedicated to helping his patients stay motivated and committed to their goals.
Born in Barbados, Mr. Warner relocated to Hamilton in his youth. Having worked closely with Olympic coaches as both an athlete and a trainer, Mr. Warner is able to employ an effective array of exercise strategies usually reserved for high performance and elite athletes. Mr. Warner currently acts as a cycling coach at the PowerWatts Cycling Studio located at Cleveland Clinic Canada's Midtown location.
When he's not training his patients, Angus is an avid scuba diver. He is a PADI Certified Open Water instructor and can certify divers up to and including the level of Dive Master.
Education/Training
Bachelor of Science

Arkansas State University
Jonesboro, AR
Certifications
Personal Trainer Specialist – Can-Fit Pro
Functional Movement Screen FMS1
Specialty Interests
Team and individual sport coaching and performance
Power and speed development
Functional training
Endurance sport and performance (cycling/running)
Exercise for seniors