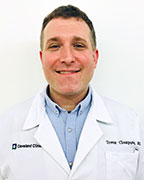 Biography
Trevor Champagne, MD, is a Dermatologist at Cleveland Clinic Canada. Dr. Champagne commonly treats conditions ranging from eczema and skin cancer to drug eruptions and lupus. He has a particular interest in e-health and teledermatology and is continually investigating and implementing new technologies and methods of care.
Dr. Champagne completed two Bachelor's degrees before turning his focus on medicine. He obtained his Doctor of Medicine from The University of Toronto before going on to complete his Residency in Dermatology. A strong interest in healthcare policy led him to pursue a Masters in Health Services Research, Health Policy, Management and Evaluation at the University of Toronto.
Dr. Champagne is currently a Lecturer in the Faculty of Medicine at the University of Toronto. He also acts as a Clinician in Quality and Innovation for the Faculty of Medicine at Women's College Hospital. His research has been published in several journals and he has presented at numerous medical conferences including the Cosmetic Surgery Forum in Las Vegas and the University of Toronto Medical Grand Rounds.
When he's not treating patients, Dr. Champagne enjoys spending time with his family, hiking and playing video games.
Education/Training
Masters

University of Toronto
Health Services Research, Health Policy, Management and Evaluation
Toronto, ON
Residency

University of Toronto
Dermatology
Toronto, ON
Doctor of Medicine

University of Western Ontario
Toronto, ON
Bachelor of Science

Simon Fraser University
Molecular Biology and Biochemistry
Vancouver, BC

Bachelor of Math (Honours)

University of Waterloo
Computer Science, Music Minor
Waterloo, ON
Certifications
Certification for the administration of Scenesse (afamelanotide)- Clinuvel
Specialty Interests
E-Health
Teledermatology
Artificial intelligence as applied to dermatology
Professional Memberships
American Board of Dermatology