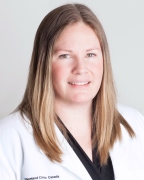 Biography
Elizabeth Douglas, DC, is a Chiropractor and Clinical Lead of Sports Health at Cleveland Clinic Canada Downtown. She has a strong background in physical fitness and has years of experience in chiropractic care. In her practice, Dr. Douglas uses a variety of techniques including Active Release, Dynamic Neuromuscular Stabilization, Graston Technique and clinical acupuncture.
Dr. Douglas obtained her Bachelor of Kinesiology from Lakehead University in Thunder Bay, Ontario before going on to complete her Doctor of Chiropractic from Canadian Memorial Chiropractic College in Toronto. While studying at Lakehead University, Dr. Douglas took on the role of teaching assistant for the subjects of Exercise Physiology and Human Anatomy. Dr. Douglas has also taken part in several research studies, including one for the Ontario Hockey Federation and the Canadian Hockey Association.
When she is not treating patients, Dr. Douglas enjoys running, cooking and spending time with her two children. Her family is involved in the wine industry in Niagara and used to own a winery in Niagara-on-the-Lake.
Education/Training
Doctor of Chiropractic

Canadian Memorial Chiropractic College
Toronto, ON
Bachelor of Kinesiology

Lakehead University
Thunder Bay, ON
Certifications
Long Tract Nerve Entrapments Active Release Technique
Clinical Acupuncture (CMCC)
Upper Extremity Active Release Technique
Lower Extremity Active Release Technique
Mulligan Concept Lower Extremity
M1/2 Graston Technique
Dynamic Neuromuscular Stabilization (DNS) Course A
Medical and Traditional Chinese Medicine
Titleist Performance Institute (TPI) Certified
R2P Post Concussion Management
R2P Advanced Concussion Management
GLA:D® education and exercise program for knee and hip OA
Specialty Interests
Dizziness
Benign paroxysmal positional vertigo (BPPV)
Professional Memberships
College of Chiropractors of Ontario
Ontario Chiropractic Association
Canadian Chiropractic Association
Canadian Chiropractic Protective Agency
Acupuncture Council of Ontario