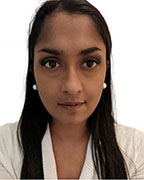 Biography
Najma Boomgaardt is a Nurse Practitioner at Cleveland Clinic Canada. Ms. Boomgaardt is a strong believer in the role that telemedicine plays in providing better access and efficiency of care to patients and reducing wait times in emergency departments. In her practice, she commonly diagnoses, prescribes medications, and treats acute, episodic, and chronic illnesses and conditions related to mental health, cardiovascular and respiratory disease, gastrointestinal, musculoskeletal, genitourinary and gynecological issues. She also does referrals on behalf of her patients to other healthcare professionals, as well as ordering and interpreting laboratory and diagnostic imaging tests.
Ms. Boomgaardt obtained her Bachelor of Science in Nursing before going on to complete her Masters of Science in Nursing and her diploma as a Primary Health Care Nurse Practitioner from the University of Ottawa. A natural leader, Ms. Boomgaardt provided clinical leadership, mentoring, and teaching to 3rd year registered nursing students during their mental health rotation at the University of Ottawa.
Ms. Boomgaardt is dedicated to building a therapeutic rapport with each of her patients. She has a strong interest in mental health and has worked in hospitals, clinics, and community centers to provide care for vulnerable and marginalized populations such as the homeless, sex trade workers, HIV and hepatitis C patients, and those suffering with substance abuse issues. She has also worked with patients in the Safe Harm Reduction Program and helped to create, in its early days, the Sexual Assault and Partner Abuse Care Program website for the Ottawa Hospital.
When she is not seeing patients, Ms. Boomgaardt has a passion for painting on canvas and sketching, travelling with her husband, cooking and entertaining guests, and engaging in a few adrenaline seeking sports such as skydiving.
Education/Training
Diploma

University of Ottawa
Primary Health Care Nurse Practitioner
Ottawa, ON
Masters of Science


University of Ottawa
Nursing
Ottawa, ON
Bachelor of Science

University of Ottawa/Algonquin College
Nursing
Ottawa, ON
Certifications
Basic Life Support (BLS)
Accreditation Certificate for Cannabinoids in Clinical Practice
Specialty Interests
Mental health
Marginalized populations
Professional Memberships
College of Nurses of Ontario (CNO)
Canadian Nurses Protective Society (CNPS)