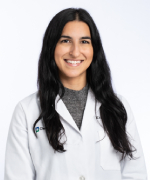 Biography
Kristina Acimovic is a Registered Nurse at Cleveland Clinic Canada. Ms. Acimovic has a background providing nursing care in general medicine, long-term care, orthopaedics and non-profit public health. Ms. Acimovic takes a preventative approach to healthcare, treating all patients as holistic beings and encouraging them to be active participants in their care.
Ms. Acimovic obtained her Bachelor of Science in Nursing from George Brown College and Ryerson University. During her time in the nursing program, she developed an interest in alternative and holistic remedies to improve health. This includes preventive approaches to improving well-being such as eating nutrient-dense, local whole foods, practicing yoga and meditation, improving stress management, and being more environmentally conscious of daily actions. She has pursued additional certification in a variety of areas, including Basic Life Support for Health Care Providers (Red Cross), Health Literacy – Indigenous Perspectives on Health and Well-being Certification and Gentle Persuasion Approach Certification (Dementia Care Education Program).
Dedicated to giving back, Ms. Acimovic has been involved with research and activism work for vulnerable populations, such as Indigenous women's birthing rights. She is a passionate advocate for removing barriers to healthcare for women of all backgrounds, and creating more awareness and accessibility for women's health services.
When she's not treating patients, Ms. Acimovic enjoys cooking and staying active by practicing yoga, biking or hiking in nature.
Education/Training
Bachelor of Science


George Brown College/Ryerson University
Nursing
Toronto, ON
Certifications
Basic Life Support for Health Care Providers (Red Cross)
Health Literacy – Indigenous Perspectives on Health and Well-being Certification
Gentle Persuasion Approach Certification (Dementia Care Education Program)
Specialty Interests
Preventive health
Women's health
Professional Memberships
Registered Nurses Association of Ontario (RNAO)