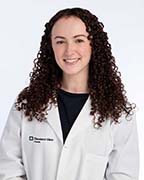 Biography
Lyanne Carruthers is an Exercise Physiologist at Cleveland Clinic Canada. She has a varied background in personal training, group fitness and exercise physiology which has given her experience working with a variety of patients ranging from tactical athletes and university students to middle-aged and older adults. She has a strong interest in chronic disease management and strength training, and enjoys incorporating her training in Pilates and movement education to teach her patients proper core activation and correct movement patterns.
Ms. Carruthers first obtained her Bachelor of Arts (Honours) in Kinesiology and Health from York University, before going on to complete her Master of Science in Fitness Science at York University. During her time at York University, Ms. Carruthers volunteered as a Peer Support Team Member at the Center for Sexual Violence Response, Support, and Education. She also volunteered as a research assistant in cardiac rehabilitation at the Clinical Nutrition and Risk Factor Modification Center at St. Michael's Hospital, and acted as the Assistant Basketball and Rugby Coach at Stanstead College for the Bantam Girls Basketball team and the Junior Girls Rugby team.
Ms. Carruthers is dedicated to helping her patients achieve their health and wellness goals and takes a well-rounded approach to fitness assessments and exercise prescription. She is a certified Pilates instructor and also provides fitness testing for structural firefighters, structural firefighter applicants and Toronto hydro workers.
When she's not treating patients, Ms. Carruthers enjoys paddle boarding and hiking with her dog.
Education/Training
Master of Science

York University
Fitness Science
North York, ON
Bachelor of Arts (Honours)

York University
Kinesiology and Health
North York, ON
Certifications
Certificate in Fitness Assessment & Exercise Counselling (York University)
Certified Exercise Physiologist (Health and Fitness Federation of Canada)
ICCPR - Cardiovascular Rehabilitation Foundations Certification (CRFC)
Standard First Aid With CPR-C, Cardiopulmonary Resuscitation – HCP, & Airway Management
Certified Movement Educator in Restorative Pilates
Specialty Interests
Strength training
Pilates
Movement education
Chronic disease management
Professional Memberships
Health and Fitness Federation of Canada
International Council on Cardiovascular Prevention and Rehabilitation