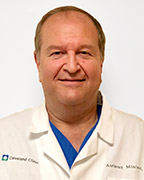 Biography
Anthony Miniaci, MD, is a Staff Physician at Cleveland Clinic's Center for Sports Health in Cleveland, Ohio as well as at Cleveland Clinic Canada's Sports Health team in Toronto. In Canada, he provides orthopaedic consultations to our patients who have knee and shoulders issues that may require surgery.
Dr. Miniaci attended medical school at University of Western Ontario and practiced in Toronto, Ontario, Calgary, Alberta and Bern, Switzerland before becoming a staff physician at Cleveland Clinic's Centre for Sports Health in Cleveland, Ohio. While in Cleveland, Dr. Miniaci has been the head team physician for the Cleveland Browns and has treated athletes from all of over world. While practicing in Canada, he was a full professor at the University of Toronto, an active member of the Canadian Orthopaedic Association, an orthopaedic consultant for the Toronto Blue Jays and team physician for the London Tigers Baseball Club.
Dr. Miniaci brings a wealth of experience and expertise to our patients and has received top medical accolades and research grants from a variety of prestigious organizations. Most recently, Dr. Miniaci was ranked in the top 1% of orthopedic surgeons in the U.S. by U.S. News and World Report.
Education/Training
Fellowship

University of Calgary
Research Orthopaedic
Edmonton, AB

Fellowship

Centinela Hospital Medical Center
Sports Medicine
Inglewood, California

Fellowship

Inselspital University Hospital Bern, Switzerland
Medicine Shoulder and Knee
Bern, Switzerland

Residency

University of Western Ontario Schulich School of Medicine and Dentistry
Orthopaedics
London, ON

Internship

University of Western Ontario Schulich School of Medicine and Dentistry
Medicine/Surgery
London, ON

Doctor of Medicine

University of Western Ontario Schulich School of Medicine and Dentistry
London, ON

Bachelor Degree

University of Western Ontario
London, ON
Certifications
Fellow of the Royal College of Physicians and Surgeons of Canada (FRCSC)
Specialty Interests
Sports Medicine
Shoulder and Knee
Arthroscopy and Reconstruction
Professional Highlights
Director Cleveland Clinic Sports Health, Head Sports Medicine
Head Team Physician Cleveland Browns
North American Travelling Fellowship
ABC Travelling Fellowship
Awards & Honours
Best Doctors
Top Doctors
Ivan Smith Memorial Award, 1982
Eli Lilly Honorarium, Research, 1985
Best Research Paper, Canadian Orthopaedic Residents Meeting, 1986
First Prize (Research Scholarship) North American Residents Meeting, 1986
North American Finalist,Richards Residents Meeting, 1986
Prize,Residents' Research Day, 1987
McLaughlin Fellowship, 1988
AOA/COA North American Travelling Fellowship, 1989
Canadian Orthopaedic Foundation Research Award, 1990
Canadian Orthopaedic Foundation Research Award, 1992
R. Tait McKenzie Award, CASM Research Award, 1992
JC Kennedy Award in Sports Medicine Research OMA Research Award, 1994
ABC Travelling Fellowship, 1995
Richard O'Connor Research Award, 1998
COF Award CORE-ACORE, 2001
Finalist,Richard O'Connor Award-AANA, 2001
Finalist-Neer Award-ASES, 2001
John Joyce Award,Best Research Paper, ISAKOS, 2003
Professional Memberships
Canadian Orthopaedic Association
American Shoulder and Elbow Society
American Orthopaedic Society for Sports Medicine
Arthroscopy Association of North America
ISAKOS - International Society of Arthroscopy, Knee Surgery and Orthopedic Sports Medicine