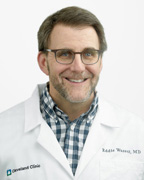 Biography
Edward Wasser, MD, is an Executive Health Physician at Cleveland Clinic Canada with over 20 years of experience in executive medicine and emergency medicine.
Dr. Wasser was born and raised in Montreal. He moved to Hamilton to obtain his Bachelor of Arts in psychology from McMaster University. His interest in medicine grew while he was working as a medic on an ambulance and he returned to McMaster to complete his Doctor of Medicine. He believes that one's health is not just about physical well-being, but very much a function of state of mind and positive attitude. He enjoys helping his patients navigate through the complex maze of the healthcare system and making his patients' interactions within the healthcare community smooth and seamless.
Dr. Wasser currently acts as the Medical Director for the Prime Minister of Canada's Protective Detail of the RCMP and has been responsible for emergency support for the last four Prime Ministers. He was awarded the Queens Jubilee Medal in London, England for his medical care for Canadians internationally, and the McMaster Alumni Gallery lifetime achievement Award for his lifelong commitment to healthcare. He founded Medevaq, which repatriates Canadians who become sick or injured abroad.
Dr. Wasser is a diehard hockey fan. When he's not seeing patients, he enjoys listening to music and going to the movies. He is also fluent in French.
Education/Training
Masters

Metropolitan University of London
Counter Terrorism Studies
London, UK
Doctor of Medicine

McMaster University
Hamilton, ON
Bachelor of Arts (Honours)

McMaster University
Psychology
Hamilton, ON
Certifications
Counter Narcotics & Terrorism Operations Medical Support Program (CONTOMS)
Medical Director Level Certificate
Diplomat of the Canadian Academy of Pain Medicine
Diplomat of the American Academy of Pain Medicine
Medical Review Officer (MRO) for Designated Substances of Abuse
Advanced Cardiac Life Support (ACLS): Instructor
Pediatric Advanced Life Support
Emergency Air Transport
Advanced Trauma Life Support (ATLS)
Neonatal Resuscitation
Advanced Neurological Life Support (ANLS)
Awards and Honours
Queen's Diamond Jubilee Medal - Awarded by the Prime Minister of Canada
McMaster University- Alumni Gallery Award
St. John Ambulance- Provincial Medical Officer Award
National Center for Early Defibrillation (NCED)-International Award of Outstanding Achievement
Specialty Interests
Professional Memberships
Canadian College of Family Physicians