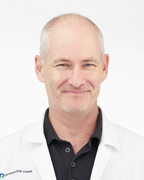 Jeff Bird is a physiotherapist at Cleveland Clinic Canada. He is particularly interested in sports injuries as well as Chinese medicine and acupuncture.
Drawn to the world of athletics and kinesiology, Mr. Bird studied physical education before pursuing his Bachelor of Science in Physical Therapy from the University of Western Ontario. Since then, he has completed numerous courses in manual therapy and muscle release techniques, neural mobilization and peripheral manipulation.
Mr. Bird is a big believer in the power of being proactive about health and addressing concerns as they arise. He enjoys working with his patients to help them reach their goals and manage their injuries. He continues to learn the latest in his field and pursue cutting edge treatment techniques. He received his certification in acupuncture from the McMaster University Contemporary Medical Acupuncture Program.
When he's not treating patients, Mr. Bird loves to stay active with running and skiing and enjoys drumming and attending concerts. He was previously involved in dragon boating at the national level.
Education/Training
Bachelor of Science

University of Western Ontario
Physical Therapy
London, ON
Bachelor of Science (Honours)

University of Western Ontario
Physical Education
London, ON
Certifications
Specialty Interests
Sports injuries
Acupuncture and Chinese medicine
Professional Memberships
Canadian Physiotherapy Association
College of Physiotherapists of Ontario