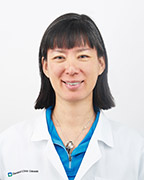 Biography
Ivy Cheng, MD, is a Sports Medicine Physician at Cleveland Clinic Canada.
Dr. Cheng obtained her Masters of Science from the University of Leicester in the UK. She went on to complete her Doctor of Medicine from the University of Western Ontario before obtaining her FRCP in Emergency Medicine from the University of Toronto.
Dr. Cheng has a keen interest in wilderness medicine as well as increasing collaboration between emergency and sports medicine. She completed a Masters in Mountain Medicine, researching the effects of ultraviolet radiation on a climbing expedition at Everest. She also completed a diploma in Sport and Exercise Medicine from the Canadian Academy of Sport and Exercise Medicine.
Education/Training
FRCP

University of Toronto
Emergency Medicine
Toronto, ON

Doctor of Medicine

University of Western Ontario
London, ON

PhD

Karolinska Institute
Stockholm, Sweden

Master of Science

University of Leicester
Leicester, UK
Certifications
Advanced Cardiac Life Support (ACLS)
Diploma in Sport and Exercise Medicine - Canadian Academy of Sport and Exercise Medicine
Diploma of Mountain Medicine
Specialty Interests
Sports medicine
Wilderness medicine
Mountain medicine
Health systems and policy research
Emergency medicine
Professional Memberships
Ontario Medical Association
Canadian Medical Association
Royal College of Physicians and Surgeons
Fellow of the Australasian College of Emergency Medicine
American Board of Emergency Medicine
Canadian Academy of Sport and Exercise Medicine