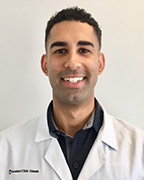 Biography
Christopher Cluff-Downer is a Physiotherapist at Cleveland Clinic Canada. Mr. Cluff-Downer provides assessments and therapeutic rehabilitation services for individuals with a variety of acute and chronic musculoskeletal conditions, with a specialty interest in shoulder injuries and concussion rehabilitation.
Mr. Cluff-Downer obtained his bachelor of arts in kinesiology from the University of Western Ontario. Having played competitive sports growing up, Mr. Cluff-Downer suffered quite a few sport-related injuries over the years and was exposed to physiotherapy and its many benefits. He knew he wanted to focus his career on helping others return safely to the sports and activities they enjoy, so he went on to complete his Masters of Science in Physiotherapy. His dissertation focused on physical rehabilitation interventions for sport-related post-concussion syndrome in youth and adolescents.
Mr. Cluff-Downer has experience treating patients with a wide variety of conditions, including back and neck pain, sports injuries, repetitive strain injuries, and pre and post-op joint replacements. He has also helped to provide rehabilitation for patients with neurological conditions such MS, parkinsonism, functional neurological disorder, and traumatic brain injuries.

When he's not treating patients, Mr. Cluff-Downer enjoys travelling, playing basketball, weight lifting, golfing, football, and hiking.
Education/Training
Masters of Science

Robert Gordon University
Physiotherapy
Aberdeen, Scotland
Bachelor of Arts (Honours)

University of Western Ontario
Kinesiology
London, ON
Certifications
Standard First Aid & CPR Level C (Canadian Red Cross)
Specialty Interests
Concussion management
Shoulder injuries
Professional Memberships
Canadian Physiotherapy Association
Ontario Physiotherapy Association
Sport Physiotherapy Canada