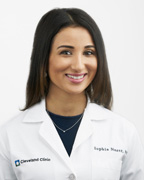 Biography
Sophia Naser is a Nurse Practitioner at Cleveland Clinic Canada. A Nurse practitioner (NP) is a registered nurse who has met additional education, experience and exam requirements set by the College of Nurses of Ontario. They are authorized to diagnose, order and interpret diagnostic tests, and prescribe medication and other treatments. Although nurse practitioners are technically nurses, they identify as nurse practitioners due to their broader scope of practice.
Ms. Naser obtained her Bachelor of Science in Nursing before going on to work in cardiac critical care for 5 years. She returned to school to complete the Master of Nursing and Primary Health Care Nurse Practitioner program. Ms. Naser has experience with a wide range of nursing care areas, from chronic disease management to cardiac care, and enjoys working collaboratively with other practitioners to provide the best possible care for her patients.
Ms. Naser is particularly interested in functional medicine and is currently enrolled in both the Institute of Functional Medicine and Functional Medicine University. Functional medicine addresses the root causes of disease and treats the body as a whole system. This approach is practiced through in-depth history-taking and mapping symptoms to categorize the root processes that underlie disease. Functional medicine is patient-centered care rather than disease-focused treatment.
When she's not working, Ms. Naser loves to ground herself in nature and spend time with her husband. She practices self-care with meditation, massages and infrared saunas. She also enjoys hot yoga and Pilates.
Education/Training
Master of Nursing

University of Windsor
Windsor, ON

Certificate

Primary Health Care
Nurse Practitioner
University of Windsor
Windsor, ON

Bachelor of Science

University of Windsor
Nursing
Windsor, ON
Specialty Interests
Functional medicine
Integrative medicine
Professional Memberships
Institute of Functional Medicine