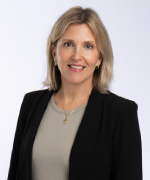 Biography
Devon Peart is a Registered Dietitian with Cleveland Clinic Canada's Executive Health program as well as a private practice nutrition coach and Lead of the Nutrigenomics program. Ms. Peart is dedicated to helping her patients live their healthiest lives. She has a particular interest in brain health and healthy aging, nutrigenomics, anti-inflammatory foods and sport nutrition.
Ms. Peart's focus on health and wellness began in her teens when she developed an interest in fitness. She decided to turn her passion for healthy living into a career and obtained her Bachelor of Applied Science from Ryerson University before going on to complete her Master of Health Science at the University of Toronto. Eager to give back to the nutrition community, Ms. Peart co-founded the Durham Region Registered Dietitians Action Group. She is on the professional Advisory Committee for the George Brown Culinary Program and has acted as a mentor for the University of Toronto's Department of Nutritional Sciences. Ms. Peart previously taught nutrition and health promotion for several years at Humber College.
Ms. Peart believes that there is no one "right" way to eat. Having good quality, minimally processed foods is key. She takes a holistic approach to nutrition that incorporates lifestyle and stress management as well as enjoyment of food. Ms. Peart is inspired by people of different abilities, body types and ages who are redefining healthy living and pushing boundaries of age, gender and ability.
When she's not working, Ms. Peart enjoys yoga, strength training, reading literary fiction, watching movies and spending time with her husband and three sons.
Education/Training
Master of Health Science

University of Toronto
Community Nutrition (Collaborative program with Women's Studies)
Toronto, ON

Bachelor of Applied Science

Ryerson University
Nutrition and Food Science
Toronto, ON

Bachelor of Arts

University of Toronto
Sociology and Political Science
Toronto, ON
Specialty Interests
Brain health
Nutrigenomics
Anti-inflammatory foods
Sport nutrition
Healthy aging
Certifications
Nutrigenomics: Genetic Testing for Personalized Nutrition
Professional Memberships
College of Dietitians of Ontario
Dietitians of Canada