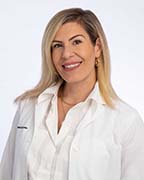 Biography
Nicole Niessner is a Nurse Practitioner and the Clinical Lead of Virtual Care at Cleveland Clinic Canada. Ms. Niessner has experience in a wide variety of clinical areas but has spent the majority of her time working in primary healthcare. She has a strong interest in women's health and areas of mental health such as anxiety, depression, ADHD and bipolar disorder.
Ms. Niessner first obtained her Certificate in Registered Nursing from Durham College in Oshawa. She went on to obtain a Bachelor of Science in Nursing from Ryerson University, followed by a certification as a Nurse Practitioner from Queen's University in Kingston. A passion for the field led her to pursue her Masters of Science in Nursing from the University of Ottawa.
Active in her community, Ms. Niessner holds the role of Adjunct Lecturer at the University of Toronto. She also holds the position of Nurse Practitioner Peer Assessor for the College of Nurses of Ontario. She previously was a member of several committees at the St. Joe's Urban Family Health Team, including the Leadership and Quality Steering Committee, the Preventative Care Working Group Committee, and the Lead of the Patient Safety Collaborative Committee.
Ms. Niessner is passionate about working with families with young children to provide guidance and healthcare expertise within all facets of their cognitive, emotional and physical development. She has held a position on the board of directors for a local daycare within her community for several years, where she also acts as their medical lead.
When she's not seeing patients, Ms. Niessner enjoys spending time with her family, playing sports and planning their next big weekend adventure.
Education/Training
Masters of Science

University of Ottawa
Nursing
Ottawa, ON
Certificate

Queen's University
Primary Care Nurse Practitioner
Kingston, ON
Bachelor of Science

Ryerson University
Nursing
Toronto, ON
Certificate

Durham College
Registered Nursing
Oshawa, ON
Certifications
Controlled Drugs and Substances Course - Athabasca University
Advanced Cardiovascular Life Support (ACLS)
Michener Institute Certified Diabetes Educator
Basic Level C CPR
ITLS – International Trauma and Life Support Certification
Older Adult Screening & Intervention Service (OASIS) – Pfizer, Canada
Learning Essential Approaches to Palliative and End of Life Care (LEAP)
Medical Cannabis Institute Certificate - TMCI Global
Specialty Interests
Women's health
Mental health (anxiety, depression, ADHD and bipolar disorder)
Professional Memberships
College of Nurses of Ontario
Nurse Practitioner Association of Ontario